do you like mashmellows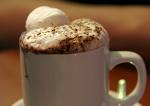 Australia
4 responses

• Canada
15 Nov 07
I love marshmellows! When we were kids camping my mom bought mini marshmellows for the hot chocolate. I used to just drink the hot chocolate for the marshmellows. Same as when I buy a coffee from seven eleven. I love those mini marshmellows you can pour on top. Does anyone else take probably more than their share?

• Australia
15 Nov 07
hi there Monkeyrose thanks for your response mashmellows are yummy but when i was younger i never like it very much but in hot choclate i like because it melts in my mouth i have sugar in it too to make it sweeter i am a sweet tooth have a great day

• Canada
16 Nov 07
I forgot to mention roasting marshmellows on the fire while camping. That is super fun too. I tend to like fire... so I always lit them on fire. They didn't taste so good then! I also have a sweet tooth. I'm currently trying to cut down though because type 2 diabetes runs in my family. Sugar is fun, but poking yourself with a needle every day is not!

•
26 Nov 07
I love marshmellows but not in a drink but i do like hot chocolate

• Australia
26 Nov 07
hi there livinrural i love my hot choclate with mashmellows init it melts in the hot choclate i love it like that pink ones are nice in there thanks for your response and happy postings