Browns vs. Ravens Nov. 18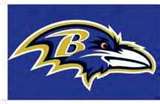 United States
November 19, 2007 3:28pm CST
OMG!!! I cannot believe this game. After being behind for most of the game, the Ravens surprisingly made a comeback and won the game. So, we're all happy and starting to walk home. I stop in the restroom for a pit stop and all of a sudden the announcer comes over the intercom He is saying that they over turned the damn call that the final field goal the Cleveland Browns kicked was no good. So....... it was fair....? WHAT?!!!? If that is the case, it ties the game and we go into over time, right? But the Ravens had already did their little speach/prayer thing in th middle of the field and nearly all of them were already off the field and in the locker room. It was ridiculous and absurd. They also couldn't make a ruling for the Ravens because of a "technical difficulty" but it was fine twice when the Browns challenged. What was going on here??!!!!????? I understand the referees are human but geeeezzzzz!!!!
1 response

• United States
19 Nov 07
I didn't see the game but only heard about it. I can't really tell you for sure but it did surprise me something like that happened. I wouldn't have expected something like to happen. While I cheer on the Browns, if I had seen it, I don't know if I would believe it. I'd rather have Instant Replay then have botched calls without it. I do think that this will be reviewed at the end of the season so that we're clear on it.

• United States
23 Nov 07
Well, I did get to see some of the replays and actually a friend of mine was photographing some of the game from the field and caught a picture of the ball hitting the cross bar (already thru...) So, the refs made it right- but they NEVER should have called it no good- that was dumb. So, still, the refs were crappy.