Theres Just Something About Little Dogs....

United States
November 21, 2007 10:09am CST
I have always owned bigger dogs. I like bigger dogs. I always said I wouldnt own a yippy lap dog and deffinatly wouldnt dress it. Well I have one! LOL. A friend of ours dog had pups and we couldnt say no. So now I have a bigger dog Star and a lap dog Hemi. They are both really good dogs. I have noticed though there is just something about lap dogs. They seem to be more loving, following you and sitting on your lap. She likes to sleep with me at night. She dosent listen quite so well and is taking longer to learn things. Star my big dog learned things very fast. She is a lover but not like Hemi. Star is content to lay at your feet. I love them both but seem to be enjoying the pup more. Theres just something about lap dogs. Whats your opinion?? P.S. I do dress her. I bought her a sweater so shes not cold outside. LOL!!!
3 responses

• United States
22 Nov 07
She has staked her claim on you..She is letting everyone know that you are hers and that is the way it is going to be..You must be strict and not let her be the boss...LOL...okay, okay....I have always had big dogs and okay, I just lied....I had 2 poodles once and they were lap dogs....I don't like anyone touching me or for anyone (even dogs) to be on me....so little dogs wouldn't be the best idea for me...although I love all dogs....

• United States
22 Nov 07
Did you ask her if she wants to wear a sweater?...LOL...

• United States
21 Nov 07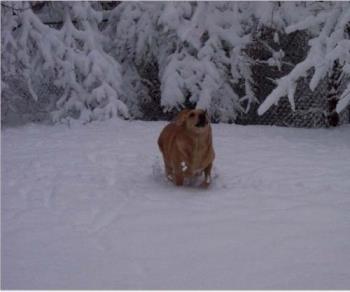 It has been my experience that little dogs are high maintenance, having to get it dressed to go outside is just one example. You big dog would probably be a lap dog if allowed to do so. My guys..75 and 85 pounds would happily jump on to the couch on my lap if invited, but they are not. But they do love the bed and neither wants to sleep in back of me. One of them has to lay down next to me and shares my pillow. Luckily it is a big pillow. I am attaching a picture of my yellow lab, he is the son of my other dog (the other dog was a stud for a guide dog organization), he was born with a heart defect and was released to us because he would probably not live to be more then a year old. He needed a home, they feared no one would want him. We talked with the kids and explained the situation, we all agreed he should not spend his life in a kennel. Well he fooled them all, he will be 9 years old next month. He is a big dog and has loving as they come.

• China
21 Nov 07
My family also raised a dog, but not the kind of pet dogs, raising as it is to home, preparedness outsiders to enter homes. It is only golden longhaired dogs, the distance looks like a gang adult female lion, whenever I go home, it will be on my side spin, ketp swinging its tail, looks very cute if pictures like, we can and shared with the joy!