memories

8 responses

• United States
27 Nov 06
What is my happiest memory? I could say it was when my husband asked me to marry him,or the day we got married,or several other things. But my happiest memory is when I am told that I am loved and get lots of hugs.because that always brings a smile to my face and fills my heart with love.

•
6 Nov 06
when i gave birth to my children and holding them for the first time


• Canada
6 Nov 06
When my parents are happy:) I love my parents, they are both wonderful and I work so hard for them as well, and I don't want them to disappoint their dreams on me.

• United States
3 Nov 06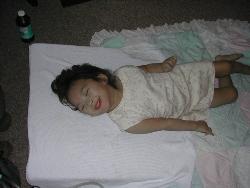 When my daughter born, my daughter roll over for first time but Doctors told us that she will not, when she said "dada" for her father, when she said "mama" for me when doctors told us the she will never talk.I can keep going forever but I better stop here.

• United States
3 Nov 06
I actually have two memories that were the happiest for me...it was when my daughter and my son were born.