What has increased the frequency of jellyfish Invasons?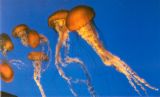 Uganda
November 22, 2007 4:38am CST
A jellyfish invasion has wiped out Northern Ireland's only salmon farm, killing more than 100,000 fish.The jellyfish covered an area of up to 10 square miles and a depth of 35 feet. What conditions are increasing the invasion of jellfish. Japan experienced it recently too. Could this be due to global warming?
3 responses

• China
22 Nov 07
Hello dear academic friend. Jellyfish is a relative of corals and sea anemones. It is really strange that a jelly has no head, brain, heart, eyes, nor ears. It has no bones, either. Is it a strange creature. Jellies, you know, have a net of tentacles containing poisonous, stinging cells, which are deadly to other sea animals. I think that when the jellyfish is too large in amount, those deadly ones would cause deaths of the other sea creatures. The cause to the frequency of the jellfish invasion to the salmon farm is for sure because of the global warming, which is the main cause, together with other kinds of pollution as well. Thanks so much for your discussion, dear academic friend.

• Uganda
5 Dec 07
Thanks alot for this information-it is very worrying that the world powers dont see the threat of global warming to humans and the widerenvironmnt.They are only preoccupied with Economic progress at the expense of the environment!

• Philippines
12 Jan 11
I guess the most acceptable explanation would be migration. Most jellyfish have to migrate to breed and spread their eggs in the waters. Most of them in groups

• China
4 Dec 07
Hello dear academic friend. I think that it is due to the environmental pollution that has caused the frequency of jellyfish invasions to the sea area. It is time for us humans to well take care of the environment we are having, otherwise the consequence is hard to imagine how worse it will be some day. Thanks for your discussion, my dear academic friend.