The first time i ate Turkey!

South Korea
November 25, 2007 6:42am CST
It is a lucky day today! i went to church with my friend. We could have chance to eat Turkey, because it was thanksgiving day yesterday! We China donot have thanksgiving day in china and i was exited when i got the news of turkey.but it disppointed me badly! Turkey was not delicious as i thought it should be! When i told that to my priest, he asked me,which part did you eat,the white part or golden part? the white part, i responsed. he laughted and said, the white part was dry,so you could feel it no good. My God! A serious mistake, i would do better next year! i had a joke with my priest. Get to business! The more importanct thing is that i met several good friends from Austrilia, British, Ghana, etc. However, i found a problem of me that it is hard for me to remember the name of western friends. When they told me their names, i nodded, but actually i can almost forget it next time we meet. Do you think it is a big problem?
1 response

• India
26 Nov 07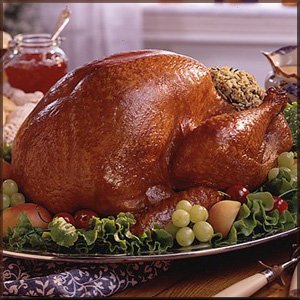 I just love turkey, the first time i ate a turkey, i thought it would be just like any ordinary stuff that i eat on a regular basis. My dad had ordered it from some place and we were about it have it for dinner, I just took a small piece, but then I could stop myself from taking more and more of it... I can still feel the tast of it. You can have a look at it, looked something like this...