Wake up call by nature -sparrows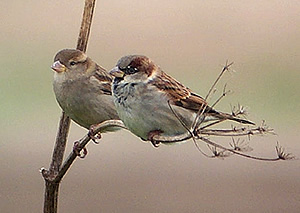 India
November 26, 2007 11:17pm CST
I have a huge tree in front of my house and early morning the little sparrows chirp away to glory, letting everyone know its time to get up. Its a wonderful way to get up with, instead of an alarm clock chimes. There are sooooo many sparrows that the whole street resounds with their chirping. They then vanish as the day proceeds.
1 response

• Pakistan
10 Dec 07
I totally agree with you ketybhaqat. You have a huge tree in front of your house. But I have no such natural gift in front of my house. You are close to nature. But I need alarm to get up early in the morning. I have activated the alarm of my cell phone which helps me to alert early in the morning. This is an artificial way of keeping my self alert and getting up in the morning. I kept little and colorful Australian parrots caged at home. They also help me to announce about the morning rising. Though I use to get up in the dark of 3:00 am. Some time alarm in my brain also helps me to get up at fixed and proper time in the morning.

• India
11 Dec 07
Yes, waking up with nature is always wonderful, but what would we do without the arlam clocks. They have become our life line. What do u do getting up so early. Do u meditate or do yoga or something. Yes, I have noticed that when I have to get up early and rely on the alarm clock, I too get up before time, maybe due to the tension of going or the alarm clock not ringing. Have a wonderful day and thanks for replying.