My Grandparents are my biggest Inspiration!

United States
November 28, 2007 8:19am CST
Hi! My grandparents are all gone now, but I got to tell you about them anyways! I would love to hear how your Grandparents inspired you too? What do you remember about them the most? My Grandma and Grandpa were the most jolliest people you would ever get to meet!! They were jolly in their voice, spirit and their body type! Grandma took care of the house and Grandpa! She would get up every morning and fix my Grandpa elaborate meals! Eggs, bacon, sausage, ham, fried potatoes and of course home made bread! Oh every meal was elaborate, Yes they had money and they always had so much food, enough to feed several people a day! Thats how Grandma planned it, they were good people, they would have at least 10 to 20 people drop in on them everyday! I know we were there as much as we could be! Grandpa would set down at the table with his Bible and read and pray at ever meal! Then he would eat, and he could eat, he wasn't huge he was an average plump man. He loved his cheeses, one day he got out all the cheese that he owned and I tryed every last one of them, the Linburger was the worst, but my Grandpa loved it, geesh you could barely stand the smell lot a lone the taste! LOL!! Grandma and Grandpa owned a huge farm, they raised cattle. They had the biggest chicken coop too, all the eggs you could eat!! Every summer I would go to pick the berries, the cheeries, the pears and the apples! Grandma and Grandpa said you eat all that you want to, But don't get sick, LOL!! I did once, but after that, I took care as to not over eat again. Grandma baked continuesly through out the day! I never knew how she had time to clean the huge house they lived in! Grandma made, the hugest molasses cookies yes they were 4 inches wide, she planned it that way, Her pies were the best in fair every year. She didn't make to many cakes that I remember, just cookies of all kinds and pies, blueberry pie, my favorite, yummmy!! Grandpa played the piano, guitar, banjo and violin, very talented! He would always set me at the piano and teach me to play Jesus loves me and a tune about a mothers love! He loved the Detroit Tigers Baseball team at that time too, He'd lift me up on his lap and say ssshhh... lets listen to the ball game, we'd hoot and holler at the different plays, Grandpa never swore but he would act disappointed and yell at the radio and say bad radio! He always taught me to be good! Grandma she would always say hey you want to make a dime? I'd say sure! She would hand me the broom and tell me to go sweep off the porch. I'd get my dime and Grandpa he'd say you want to go to the store? Grandma she's say you need to teach her to save her money, he'd laugh and take me to the store and he would buy me candy and tell me to save my dime. LOL!! Oh how I love them, I'll never forget them and they will always be in my heart! Oh I can't forget, Grandpa loved books, his whole basement was a small library in itself. He would always read to me and give me any book I wanted, I loved the little sized books the most, I have several of them yet today! Grandma and Grandpa inspired me to be all that I can be, to be loving and caring of others and myself! These are just a few memeories I have of Grandma and Grandpa, there are so many more, oh one, Grandpa loved stirring Grandma up, he'd say anything just to get her going, I'd laugh and he would too, soon Grandma would come around and say you old goat! LOL!! May God Bless you with fond memories of your grandparents too!
2 responses

• Anderson, Indiana
5 Dec 07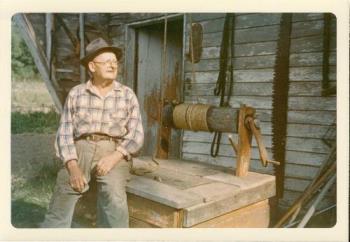 I had delightful grandparents, too. Although my maternal grandma--Fayra Katrina (Chambers) Jobe--had already passed (May 21, 1943 age 47) almost a decade before I was born, I feel as if I know her from hearing my mom, aunt, uncles, and other friends and relatives talk about her. My mom recently told me that she and I were a lot alike because we were both activists who didn't just talk about getting things done but went out and did our parts to make sure that it happened. She, like I, also had a thing about not killing spiders. My maternal grandpa (George Elmer "Greeley" Jobe whose picture I'm featuring here) hung around until my first day of first grade, and he would often come up and stay with my folks and me for months as he grew older. He and I were buddies, and he spoiled me rotten (right along with my folks) but still taught me right from wrong. My paternal grandparents--Mabel Adeline (Phelps) and Chester Woodford Phillips--had special names besides Grandma & Grandpa: Mawsie & Pawsie. I was blessed with them until June 6, 1973 (age 76) and May 18(?), 1982 (age 90). When I was in fourth grade and my dad was about to have open-heart surgery, they, my cousins, and Uncle Jim (separated and, eventually, divorced from Aunt Mary) moved up to Indiana for good. But my early memories of them were down on a farm in Kentucky (close to a little village named Richardsville and around 20 miles from Bowling Green). Mawsie was quite the cook--doing that cooking during the warm months in a summer kitchen separate from the house--but Pawsie also had a special culinary talent in making fried pies. As with Grandpa, they also spoiled me rotten--but, also, pointed out my shortcomings when necessary. There's a song by a country recording artist named Jud Strunk called A Daisy A Day, and it reminded me of Mawsie and Pawsie, because I could see them at any given time out strolling hand-in-hand like a couple of newlyweds, even in their twilight years. That song became popular the year Mawsie was taken by cancer. She passed away at home with Pawsie snuggled up beside her. http://www.youtube.com/watch?v=GOYXz7lUM-k I have lots of wonderful memories of Mawsie and Pawsie, and I'll share some of them here when I have more time. The same goes with Grandpa--plus, I'll share what I know about Grandma. But that will be later, as I want to get this posted now...

• United States
28 Nov 07
You are so nice to think so much of your grandparents. We often take them for granted and never realize it until they are gone. I wish I had the chance to speak to mine again. My granparents on both sides had interesting things happen in their lives. Had I been paying attention I would have a lot of stories about them. I dont get to see my grandchildren very often because they all live to far away to see on a regular basis. Keep your memories close to your heart.