If you are on a diet, what do you put on your Christmas food table?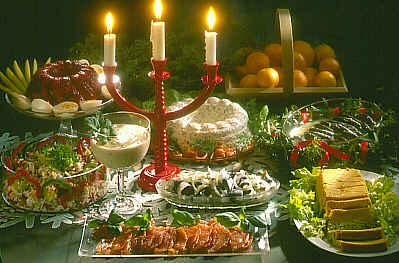 Sweden
December 2, 2007 5:41am CST
Ok, we have reached the time of the year when food are important in celebrating Christmas. I for one do not eat on a diet, I eat as I should but dropping my ponds anyway´s. So I think I can eat most of the god food for Christmas. I have my favorites, but do not overdo it. But what are you putting on your Christmas food table if you are on a diet? Or do you skip the diet this time of the year?
1 response

• Philippines
2 Dec 07
this is a good discussion. well... i have four children and they are always looking forward for christmas. i just dont eat a lot and drink a lot of water before diving in. lol. as of now i still dont know what we are having this christmas.

• Sweden
2 Dec 07
Well, I do not have to do so much about it. My mother is taking care of the food. But it will be the ordinary Christmas food that we all enjoy and like so much. But it is wise not to over do it. I will take something god to eat, and turn of the puter, take the seat by telly and see a god movie. Thank you for responding, have a great first advent.