Change of mobile phones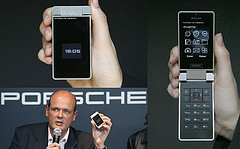 India
December 3, 2007 1:01am CST
How many times have you changed your mobile phone?Did you lose it or you went for a better model?
6 responses

• Craig, Alaska
3 Dec 07
I changed my cell phone 3 times. I know probably a small number compared to others changing service. but I have only change services 2 times so far in my life. I upgraded my phone for the one service and then moved to another town that didn't have the same cellphone company I was using. I can't believe the company was going to charge me for breaking the 3 yr. contract when they don't have the company in the town I was moving to. I called the head corporation here in AK and told them about that and they dropped the charge. Sometimes I hate it that people who work for companies don't know all the guildlines in the job.


•
3 Dec 07
I have changed my mobile phones for 4 times already. The first mobile was changed because I lost and then the second mobile was because I wanted the new set. It was really old fashion among my friends. So, I wanted to change it. After carrying this mobile for about a year then finally I lost it again. Now, my mom is really fed up because of my mobile loosing habint and I'm not considering yet to buy the new one.

• United Kingdom
4 Dec 07
I am now on my third mobile phone. I got my first in 1999 and it has one free number so buying it was an excellent deal. It broke so I had to get my next one in 2003 and it had a camera mode as well. Unfortunately it just broke and so I had to buy a new one. I looked at a mobile phone magazine and found many better mobile phones that the first two that I had in my life so far. I decided on my maximum budget and bought that phone, with Internet, email, text messaging, phoning, music and camera mode. I got money off it for giving the company my old phone and charger to recycle. I am just learning how my new mobile phone works. So far I can send text messages on it and make phone calls. I need to learn how the camera and music parts work. I would only replace my mobile pone if it was broken or it got stolen. I would make do with it rather than buy a better more updated model.

• Philippines
3 Dec 07
I have changed phones because I want to upgrade it to a batter unit. I have done the upgrading twice since 2002. :)

• Philippines
3 Dec 07
Hi. Let me just guess, you have different phones, right? Well, according to a friend, it's not the model but its usefulness. If he has 20,000, he would rather put it in a high yielding fund. After 6 months, the amount will surely be higher compared when you buy a new phone. After 6 months, the value decreases! Let's learn something!!!