Cat Drinking Christmas Tree Water......How Do I Stop It???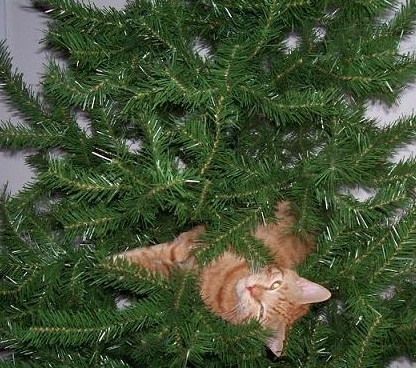 Canada
December 3, 2007 12:58pm CST
Every year we have the same problem. We go out and get a Christmas tree and we set it up and as soon as we fill the tray with water the cat is at it. I don't understand this because there is always at least one dish of actual drinking water available to him. I worry that the dirt or whatever else in the water from the tree or the metal stand will make him sick. Plus i just find it really gross that he would choose to drink dirty water instead of water from his water dish. I have tried covering the tree stand base with a cloth but he just pushes the cloth down into the water and gets at it anyhow and all it does it make more of a mess, haveing the cloth there. Does anyone else have this problem with thier cat? Or do you have this problem with a dog? (My dog leaves it alone) What do you do to keep them away? Would it hurt my Christmas tree if I put vinager or pepper or something in the water so the cat wouldn't want to drink it?
4 responses

• United States
3 Dec 07

Hi Nykkee, there's some items at the store that will work, it's sticky strips called "Scratch Buster Strips" in which keeps your cats from scratching furniture or getting into anything that you don't want them to get into. Its safe and non toxic which is what you really want with your precious kitty. I wouldn't try vinegar or pepper because their insides aren't like ours so I'd be afraid to use anything like that. Anyway, you can lay these strips on the floor to keep your kitty away from the whole tree and not just the water. Here's the link for you to see however you can get them at a department store. http://www.drsfostersmith.com/product/pet_supplies.cfm?c=3261+1894

• United States
3 Dec 07
I've used those before on the tops of my cabinets to keep my cats off my cabinets. The only thing those strips did was make fur stick to them as the cats walked across. =)

• United States
3 Dec 07
I never could get my cat to quit. And she ate needles too. So we bought an artificial tree. No water. No cat drinking the water. Found it to be cheaper too. Hope that helps.

• United States
4 Dec 07
My cat will drink any water anywhere as if she didn't have it available already. She has a bowl upstairs and a fresh flow filtered water system downstairs and yet the bathtub is her favorite. We did have the tree issue when she was little so we switched to a fake tree and no problems really. She loves christmas and will lay under the tree or by a wreath for hours on end, now that the water isn't there, I don't have to worry. I do have a tip though, I use a spray bottle of water and spray her whenever she's being naughty and it works really well. Oddly enough... that's how my mom got me to stop having tantrums when I was 3 but that's a whole other story, lol. Oh and as for things like tape, if you use it just watch your cat around it first. Mine will eat anything plastic or tape and can hunt tape no matter what it's on. The bad thing is that they choke on it so you'll want to make sure that your cat doesn't try and eat it. Good luck!

• United States
6 Dec 07
Thanks for the best response! I hope you're having better luck getting your cat to stop thinking the Christmas tree water is some sort of festive kitty juice.

• United States
16 Dec 08
I have been having the same problem this year. I safety pinned my tree skirt tight around the trunk of the tree. He cannot get to the water but is ruining my tree skirt in the process.