Do you have boss like my friend's?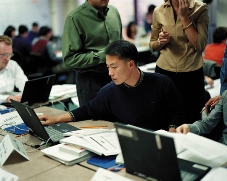 China
December 5, 2007 3:03am CST
My friend told me that he wantde to change his job.He has a good job and the wage is highly. "Why?Your job is very good!"I asked."I hate my boss,"he said who with a grim-faced,"He never shows appreciation for anything!" I want to help him but I have no idea.How shall I do? Did you have same experience and what did you do? Please tall me!!
1 response

• Philippines
5 Dec 07
I read a similar story of a woman who had a boss that is always scolding her even if she's working hard. Her boss doesn't know how to appreciate, he snubs, always finding faults. Instead of returning the favor, this woman showed respect, and talked to him one day. She told him his indifference and his lack of appreciation. The boss never talked to her after that. If he has something to let her do, he just leave it in her table. But this time, he never scolded her nor get angry. He started to show some changes. This woman have done her work more efficiently until one day, she got sick and didn't report for work. In her hospital bed, the boss visited her with a gift that says, "thank you for making a difference in the way i treat people." In our world, it may be impossible to make a huge difference with everyone, but we can always make a difference in someone one day at a time!