"Select Wisely"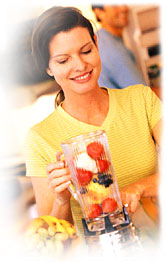 Philippines
December 8, 2007 2:44am CST
Vegetables and fruits that are uniform in color, size, and shape usually have the best taste and texture. Check for bruises or soft spots where bacteria could dwell. A quick note to remember: the richer the vegetable color, the more nutritional value. For instance, darker, leafy vegetables, such as spinach, have more nutritional value than iceberg lettuce.
2 responses

• India
11 Dec 07
I like the taste of lemons and limes as they are so very juicy but they both have quite a sharp sort of taste. Bananas have a lovely flavor and are quite filling to eat.Introducing fruits in your diet also helps in reducing blood pressure and cholesterol. There is also a reduced chance of you developing type 2 diabetes if you eat more of fruits. Once all these diseases are controlled with fruits, they can also be used to slow down your aging process.

• Philippines
12 Dec 07
lemons and limes are both nutritious fruits they are all healthy,thanks for your good response and have a nice day.

• Australia
8 Dec 07
Oh I am shattered, iceberg lettuce is about the only green leafy vegetable I like, these days when you go to a restaurant they have what I call weeds in the salad, I don't think you can beat a nice crisp iceberg lettuce... :(

• Philippines
12 Dec 07
thats great!lettuce has a lots of vitamins,thanks for your response again and have a nice day.