Sepia and black and white!

United States
December 9, 2007 8:37pm CST
Thursday Night I went to a Rotary Club dinner that was held at the local Country Club. Everybody was dressed to the 9s. Most of the folks had their picture taken by the Christmas Tree which was extremely bright and I remember in the past most of the pictures came out all washed out. Well I took each persons picture seated at their table before the food came out( and before the booze came out). Then I took them home and worked with a program I have that does wonders with sepia and black and white. When I gave everyone their photos on Sat. they were delighted. I had settled on the Sepia and it made it look like years gone by. It also hides your age a bit. Does anyone else like Black and White and Sepia over color photos or is it just me? Do you ever try doing this on your computer?
4 responses

• United States
10 Dec 07
i do! i love sepia. i like it over black & white. i always play with colors on pictures when i do the editing in my computer and sepia is just great! in fact, i'm working on some photos at the moment for a framed artwork :)

• United States
11 Dec 07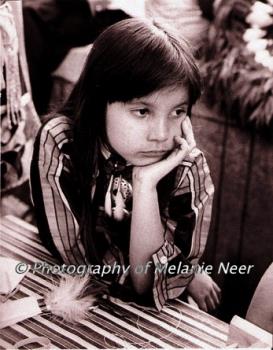 Are you kidding...I love black & white photography in general...I'm still a film user, and years and years ago (uh, don't ask how many) I learned how to develop black & white film and prints...I STILL love doing that--that is printing my black and white photos.the old fashioned way with Dektol, Stop Bath, and Fixer....They have a chemical for printing photos to give that sepia tone to it ..what's a real pain though....Now years and years ago, Kodak had some really beautiful types of fiber-paper as opposed to the RC glossy types...these papers often had a wonderful natural cream white, or sepia tone to them...Kodak unfortunately did away with these papers and I'm so ticked off about that. On the flip of the coin..I do putter around with Photoshop for the digitized images of my slides and prints and yes, do the sepia tone to them..somehow just not the same or as much fun as the old fashioned way of printing photos though Here is one of my original black and white prints but made sepia toned through photoshop

• United States
11 Dec 07
Here is an idea I bet you haven't tried. Load up on ink-I do hope you refill your own printer ink. There is all kinds of intresting paper out there that is not made just for photos BUT, works awesome for what we do. Some of this homemade paper that you find in these candle shops and stuff. For some reason some of it has just the right finish on it to print on. It takes practice and you have to baby your printer along but most of it isn't any thicker than cardstock or tag paper. And it is oh so much fun! Now I have put a trade secret on the internet. I'm an idiot!

• United States
15 Dec 07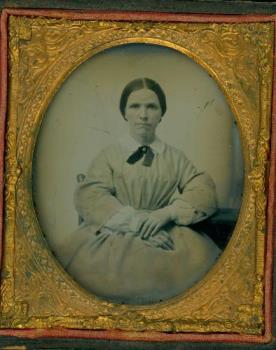 Why thanks ever for the best response. You kind of did give me an idea though. There's a stationary store that sells beautiful textured papers, don't know if it can be printed on but I imagine it can be and all sorts of colors and tones--problem though, not cheap! But might be good for special photos. Yes, I do want to eventually get a digital camera, but I think I'll forever be the film photographer Oh and another thing. For some reason black & white photos seem to be more stable than color especially in the printing world..and just look. Photos still exist from the Civil War period on glass plates. Even I have a few of those myself. Have one here that I scannned--haven't a clue who this is, but one of my ancestors, maybe great-great grandmother?? My grandmother and mother never bothered to know who the old photos were of

• United States
10 Dec 07
I sepia-tone almost every graphic when I'm making my journals... it makes them look like old ephemera pieces, like antique photos... it does make most things look much more attractive! Black and white is a bit too stark for my work, but I have changed all the photos in one of my albums to black and white... it was like a completely different story!

• United States
11 Dec 07
I never could understand why everyone wants brilliant color. It shows every line and imperfection. It screams. When my kids were little I even still had a black and white TV until my Father finally put his foot down (or rather his wallet) and bought a color TV for "his" grandkids. Even they didn't see anything wrong with black and white TV. They thought it was fun to guess the colors and then go to their friends house and find out who was right.

• United States
10 Dec 07
I haven't myself done this but my photographer friend does it. He took some pics of my new born grandbaby and turned the color pics to black and white, so we had pics of them both ways. In certain pics I like the black and white better than the color pics.