Bend it Like Beckham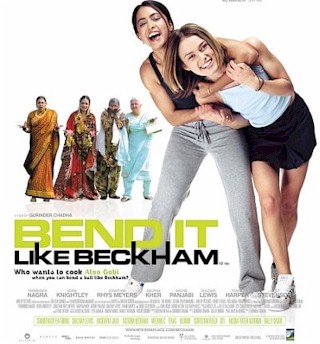 Philippines
December 11, 2007 7:00am CST
Bend It Like Beckham is a British film. The film was directed by Gurinder Chadha. It is a story about an Indian girl who is so into soccer. It also tackles the dynamics of culture in a white-dominated place like London. Aside from that it also conveys how a tradition sometimes can be one's greatest fear in following one's dream. The film's title refers to footballer David Beckham and his skill at scoring from free-kicks by "bending" ( or curving) the ball-- making it swerve as it flies through the air. The movie is about Jess -- an Indian girl who pursues and follows her dreams regardless of the challenges.
5 responses

• Italy
18 Dec 07
This movie is really good, and the indian girl and Keira are really good actresses. It was really funny and I read that it made female soccer become popular between the indian community, so a big thumbs up!

• Philippines
20 Dec 07
It has somehow changed a lot. :) Acceptance of the changes in a culture will always be a big thumbs up. :)

• Singapore
18 Dec 07
Well i have seen the movie , i do felt a bit boring and david beckham only make scence during the last part ... that is the only part i like about the movie yea

• Philippines
12 Dec 07
Yeah, I watched this movie several years ago. It was a nice one. It really showed how difficult it is to adjust from culture to culture. Tradition can really hinder us from achieving our dreams sometimes. This is sad because this shouldn't be the case especially if those beliefs aren't even grounded on reason. Its difficult to understand sometimes because its not our culture. But we just have to learn to adjust with each other. That was a good example.

• Philippines
13 Dec 07
I guess, with the rate globalization, we tend to adjust, what I am afraid of is losing the tradition. The movie is ok. :) Thanks for responding. :D

• Murfreesboro, Tennessee
11 Dec 07
I love this movie! :P I loved the Indian culture elements, the relationships between people portrayed, the acting.... it's just all-around a great movie. It surprised me that I would like it so much since I'm not really that into soccer, but it's about so much more than soccer. It also started my Keira Knightley obsession I think. :P

• Philippines
13 Dec 07
I think Keira started her career, I mean, getting popular in this particular movie.

• United States
21 Dec 07
I've never seen this movie- I may have to check it out.