i joined mylot because..........................................................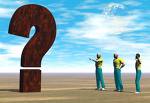 Pakistan
December 15, 2007 3:31am CST
my dear friends we need your opinion about mylot and what is the aim behind your joining at my lot
3 responses

• Philippines
15 Dec 07
hi azeem! well, i joined mylot because i learned that it is paying and indeed it is. i am just a little disappointed now because they pay less that when i first started. really it is because of the money. but now, i don't mind the small income. i just continue to mylot anyway. hehehe this place is addicting! lol it's just sad that not too many people i know have time for this. if they are, then i would have lots of referrals and i would be earning from them. well, anyway, hehehe i had earned some 30 bucks already from here...still have 37 bucks here and about 13 bucks to payout. yippee! i am saving for a laptop so hopefully i will have enough next year. :-)

• India
15 Dec 07
Hello,azeem! i joined my lot because it provides me much information and i ventilate my feelings,opinions before my friends here.while doing so i get much pleasure,and at the same time i am being paid by my lot.what more you get from other sites?thank you.have a good day.