Previous discussion on oldest deocration I forgot the photo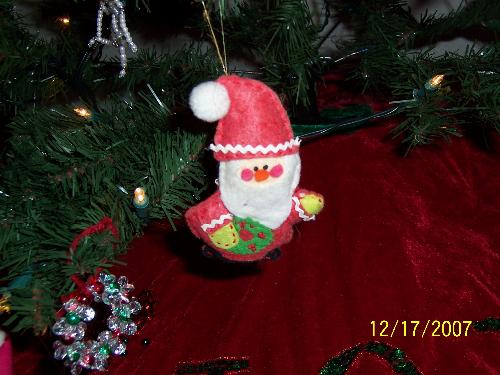 United States
December 17, 2007 2:37pm CST
Silly me I forgot to attach the photo of the oldest christmas decoration that my husband and I have. So here it is. Santa is stitched together by hand from felt and stuffed. I made several little decorations that came in this set. I seem to only have Santa left. Below Santa there is a beaded christmas decoration that was made several years ago by a friend. I just love home made deocrations.
2 responses

• United States
2 Jul 09
Can I join the respond parade? I saw this discussion through grandpa bob's up there, and am glad I did decide to venture to it! I'll be the second responder! lol! that is a cute decoration, the one below it that you said a friend made, looks a lot like one that goes on our tree ( my mom in laws) every year! lol! My first decoration wasn't made but bought. It's a tradition in my fiance's family. He got a Star Trek one, I think, or a star wars, and I got a heart that had a red jewel in it (don't think it was ruby) that said "Our first Christmas!" your making me so excited to have our own place and our own Christmas decorations though, lol!

• United States
3 Jul 09
Thanks for coming to my parade cowgirl. I still have that santa and he has his place of honor near the top of the tree.

• United States
3 Jul 09
Glad to hear that! I'm sure it's special every year to put it on the tree. I know it's special for myself and my fiance.

• United States
14 Dec 08
One year later and you finally get a response. Plus I added a comment to the photo. Plus this is tyhe only discussion I have rtewsponded to all day today and won't respond to any more. So does this deserve best response or what? I have more photos on my profile of moms ornaments as well. I love the fluffy lil' Santa you have. He is too cute. HAPPY HOLIDAYS FROM GRANDPA BOB !!~

• United States
15 Dec 08
I am so sorry about the troll you have. I do not understand why some people have to be so mean. Is there anything you can do about the troll. Have you been in contact with myLot to get this person taken care of? I do like your web page you used good colors and you did not over do the items you used. I have seen a lot of people over do their web pages or use colors that I cannot see. thanks for responding to my discussion. Even if it is a year late. I was thinking of you when I put the Santa on the tree last night.