Jamie Lynn Spears (16) is going to hve a baby Britney's sister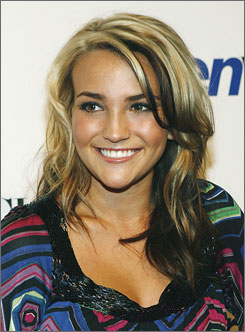 United States
7 responses

•
20 Dec 07
16 is much to young to have a baby....But hey who knows she may be a great mom..lets wish her well because being a mom at any age is a hard, but rewarding experiece.

• India
20 Dec 07
Tell her she is useless and quit.


• Canada
19 Dec 07
I think that it was unplanned. She is a teenager after all, and even if in later life, you find it hard to get pregnant, for some reason you do not need as much of the guy's - to start a baby. I do not know if she will be allowed to play on Zoey 101. I do not watch the show and do not know how old the character is. If it is an older teen, they might write in the script either to get her married with someone, or she might supposedly have to move to another city. I know that sometimes they start doing the scenes so no one knows the actress is pregnant.


• United States
19 Dec 07
she could never have a baby to show her sister how to be a mother. It will show her just how hard being a mother really is. She has the help and money most of us don't so she'll never really know the hardships. As for the tv show she looked to old there in the first place. She should have been gone. I am sure Britney has her great moments that no one wants to show. it's all about the bad parts and she is doomed for life. The poor girl needs help not more bad scars.

• China
22 Dec 07
I feel very expected that Jamine Lynn Spears wants to have a baby .Because I think that if she had a baby ,she would not be allowed to still play on Zoey 101.