Soda Tax

United States
December 19, 2007 5:25pm CST
Just when I thought I'd heard it all, along comes an announcement that the mayor of San Francisco, Gavin Newsom, has proposed a tax on soft drinks in stores where they are purchased. Officials are going under the assumption that people are just going to lie down and take everything they try to throw at them in an ever increasing attempt to regulate every facet of our daily lives. I hope the people of San Francisco will stand up and fight against this. Taxing everything out of existence is not going to solve every problem in our society. They always use the excuse that they are looking out for our health and welfare-well, I think we are capable of looking out for our own health and welfare just fine! It's only another attempt to tax people to death. What do you think of this new idea?
9 responses

• United States
20 Dec 07
It will come back to hurt them. People won't stop buying soda, they will cut out something else and the economy will take a hit.Or the neighborhoods around San Francisco will get all the soda traffic.And what about restaurants? I can see the fas food restaurants outside S.F. doing so much better than within the city.

• United States
20 Dec 07
I think they learned nothing from imposing taxes on everything they regard as "sins," sarah. In my area right now they are haggling over whether or not they can enforce the ban on smoking in public places. Some have admitted they can't.

• United States
19 Dec 07
This looks like another crazy idea to regulate our lives by the wackos in the government. I am not so much a pop drinker, but continuing to add taxes to everything is going to do no good in the long run. Are they taxing this to just make more revenue or to cut back consumption rates? You are right in that we should be allowed to regulate our own health. The problem with government on all levels is that they are overspending their incomes and need more revenue to spend.

• United States
20 Dec 07
The greedy public officials are always getting caught with their hands in the cookie jar, sigma, so it is little wonder that they keep coming up with new ways to dig into the publics pockets.

• United States
20 Dec 07
thats about stupid what are they going to tax next

• United States
20 Dec 07
I may be wrong, but I thought soda was already taxed. Then again taxes and finances are foreign to me..lol

• United States
25 Dec 07
I think they are talking about an additional tax, carmelanirel, to the store owners who sell soda.


• United States
25 Dec 07
I think, cyfernet, that if they continue as they are, they will eventually succeed in taxing us out of existence.

• United States
20 Dec 07
I think it is crazy!! They are taxing everything. It is the answer to everything. I think they had better figure out where to get more money, and leave us alone or find a way to get the people more money.

• United States
20 Dec 07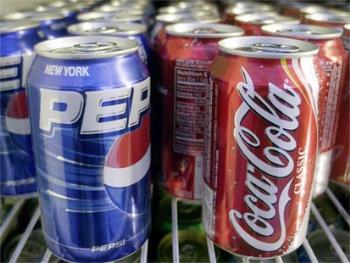 We are now having to contend with "Big Government" in every sense of the word, Thoroughrob. Maybe next it will be taxing movies that they think are bad for us, or video games. Who knows where it will end?


• United States
20 Dec 07
I think they would love to tax us on just about everything!

• China
25 Dec 07
That's strange, and confused for me. This looks like crazy idea, it will hurt the economy for certain. Soft drink is so popular, almost every people drink it. I like soft drink,too, though I am a xanthous. Maybe, the government need more financial revenue to do things, but adding a tax on soft drink will come back to hit the whole economy, and another financial revenue will reduce, consequently. Taking it all round, I think the final financial revenue, that the government have gained, will be fewer.