Bratz Birthday Cake:)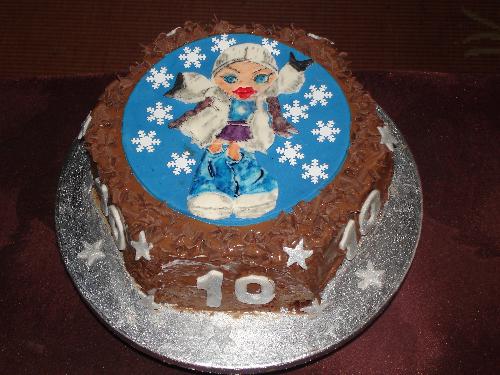 December 21, 2007 4:47am CST
Firstly, I have to apologise for not playing a very active part in Mylot for well over a month, but things have been so hectic that I really haven't had enough hours in the day, to participate as fully as I have done in the past. There have been lots of things going on, not least, my Granddaughter's tenth birthday, on the 14th December. As with last year, she requested an all-chocolate, Bratz cake for her birthday celebrations. Last year, I made a Chloe out of roll-out icing, painted it with food colouring and put it on the top of her cake. This year, I thought it might be appropriate to make a more wintry one, and decided on Yasmin. I found a pic on the computer, printed it off, cut it out, and then rolled out some icing and cut the shape. Then, came the difficult bit... I painted the piece of icing to match the picture, with food colouring. Surprisingly, the result wasn't bad at all. So, I cut a blue round, stuck the figure on the round, and added snowflakes. Then I cut some stars, dusted them in silver, and some number tens, also dusted in silver petal dust and decorated the cake and board with these. Then, I sprinkled the chocolate parts with chocolate curls. Below, the result. Apparently, they all enjoyed the cake and wanted second portions! ha ha ha. But then... I had to decorate a two-tier, all-chocolate wedding cake, for the following day. Eeeek... I'd never done this before, and was worried about how it would turn out. But... all went well, and I'll show you this in another discussion! As for my Granddaugher, she had a make-over party, where her older sister, Sarah and friend, made them all up with party make up, and designed their hair, for party fun! Only ten years old, but they love dressing up and looking good for going to parties, so a great time was had by all. Lauren had a very successful, fun party! Today, is the first time in ages, and possibly the last time before Christmas that I have any amount of time to spend in here, so making the most of it. lol. Brightest Blessings to all my friends.:)
7 responses

• Philippines
21 Dec 07
Hi Darkwing! It's alright my friend, I think everyone is so busy and that includes me. I am on and off in mylot too. haha.. The cake is so beautiful. I showed it to my niece and she said that she wants one like that made on her birthday! haha.. I really think it's great my friend! Congatulations for a "cake-well-done" and good luck to the rwo-tier cake you're gonna bake. I am sure it will be beautiful too. Take care and have a Merry Christmas! :)

•
21 Dec 07
Lol... I've given you a good job there then, Faith! :) Thank you for the compliment... I already did the wedding cake, last Saturday, and it was eaten! Not only that... all that messing, and I didn't even get to taste a slice, but the bar staff did, and they said it was nice! he he. You take care too, my dear friend, and have the loveliest Christmas ever!!! Brightest Blessings, in love and light. x

• Australia
26 Dec 07
You've certainly been missed darkwing but as you've been so very busy, you're forgiven. :) It's a real gift you have with the cake decorating. It sounds as thouh the girls had a lovely girly time together. It's given me an idea for a suggestion to my daughter for Holly's next birthday. Holly goes to High School next year so things are very exciting at the moment. They grow up so quickly...sigh. Brightest blessings to you too dear lady.

•
26 Dec 07
Awww... I'm so happy to be forgiven by such a sweet friend, MsTickle. Yes, I think the makeover party idea might be just right for Holly as she steps up to High School. Not only did they have girly fun but they were able to choose how they wanted things done, and discuss the ideas and results with their friends. They really enjoyed it. Brightest Blessings my dear friend. x


•
26 Dec 07
Hmmmm, sounds like me... if you're not comfort-eating, you can't resist the seasonal specials. lol. I've way over-eaten too, but I'll tell you something... I REALLY enjoyed it!!! Not only that, it will continue until the New Year, when I will have to fast for a bit! lol. Why not... no point missing out, is there? As for the cakes, which were the discussion in the first place... if I lived closer, you sure would get to taste some! :) Brightest Blessings, my dear friend. xxx


•
22 Dec 07
I have missed you Sweety - but it is not your fault - I haven't been active for much longer but now I am back! Niamh would love a cake like this - I think any girl would! I wish I were given a smidgen of your talent Darkwing but unfortunately I would just mess it up. So glad it all went so well! Speak soon, Hugs xxx

•
22 Dec 07
Thank you my dear friend. I've missed you too, and I hope your back is strengthening and there have been no further problems. I would love to make Niamh a cake like that but as I said before, it would probably arrive in several pieces and have to be put back together, like a jigsaw. lol. There's only one thing for it... and someday, perhaps I will manage that. We will have to see how things transpire. :) Brightest Blessings for a wonderful Christmas and a health and prosperous New Year. xxx

• India
22 Dec 07
The cake, or sometimes a pastry or dessert is served to a person on his or her birthday,d is often decorated with small novelty candles, with the person's name and/or a message of congratulations inscribed with icing The phrase "Happy Birthday" did not appear on birthday cakes until the song Happy Birthday was popularized in the early 1900s. Tradition holds that the person with the birthday may make a wish, which will come true if all the candles can be blown out in one breath As with Christmas puddings there are various traditions of coins or touch pieces being added for good luck. A birthday comes once a year every year. It is a special day that marks the end of one year gone by and the heralding of a new one. While as adults we tend to forget about birthdays considering it to be just another day, for children it is a day of fun-n-frolic. A day of celebration. It is a day when they just cannot be told what to do. What makes this day even more memorable is the birthday party.The gifts, games and the birthday cake form the theme of the day.The child is just immersed in all the excitement.The friends are pouring in with gifts. All attention is on the birthday boy or girl . And the most awaited moment of the birthday party are the birthday cake. The minute the cake is wheeled in all attention goes onto what shape it is.

•
22 Dec 07
Thank you for your very detailed response, my friend. There's just one place I differ here, owing to the fact that I'm a Pagan. I don't put candles on cakes because I believe that blowing out candles blows your luck away. I prefer to light a candle for each year of a person's life, instead. Brightest Blessings.

• United States
21 Dec 07
I have noticed that you have been missing in action. It sounds like you have been busy for many good things. I love the fact that you have given detailed methods for the cakes you have made. The other thing I like in this discussion is the interaction between the two sisters. It seems like everyone had a lot of fun.

•
22 Dec 07
There's quite an age gap between the sisters, as the little one wasn't really thought about until her brother passed away, and the elder one left as an only child. Little Lauren was born some eleven and a half months after her brother left us, and was a real blessing to us all in coping with his loss. She is a treasure to me... she's always lively and laughing. I know I call her the little Minx, but she really has been a treasure from the moment she was born. She is ten now, as you probably gathered and her sister, sixteen, so as you can imagine, she is growing up quite quickly and is into pretty clothes and dressing up for parties, etc. So, there you have the closeness... Sarah, the older one, likes to pass on what she knows to her sister, Lauren. I find that wonderful. Yes, I've been missing for something like a month, according to dear Lacota, but it has been time well spent and now, I feel it's time to come back and spend a little time with my friends, whom I've missed a great deal. I have taken on some bar work at the weekends as well, so that takes a couple of days out of my week. Never mind... things are going very well now, and I'm happy. I'm glad you enjoyed the cake discussions. I'm not one for boasting but I think my friends, including you, are interested in what I, and their other friends on Mylot do. So... I share. Thank you so much for your comments, my dear friend, and Brightest Blessings for the Holidays. x