The college english test of 4 band (CET-4) from China!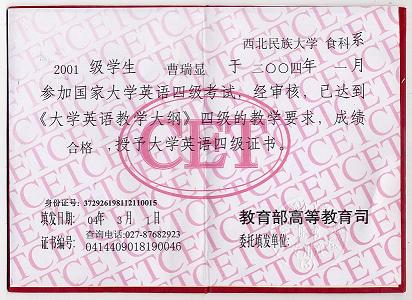 China
December 23, 2007 8:42am CST
The CET4 is a very important english test for chinese college students .There is another test called CET-6 that is more different! In China,the result of the test is rather important for chasing a job.Even many university don't give the diplomas to these students that don't pass this test! So,I want to know whether there are similar tests in other countries? the test is rather difficult even for some people speaking english!Given me more time,i would post the content of it!
5 responses

• Guangzhou, China
24 Dec 07
I agree with you. CET 4 examination is important in China. It seems that every boss wants to hire a one who has a good skill of English although it may not be used so often in the daily work. I don't think it is a good idea for as it is good enough to communciate in English, but it is not necessary to have the certificate. I ever traveled Yangshuo which is a small village in Guangxi Province. The people are good at English there. Even if a street old granny vender could say whether you needed oranges or not in English. So can you say that an English certificate is much more important?

• China
24 Dec 07
Yes ,the english certificate is important to us chinese students.In college we spend too much time in studying English for the certificate.Many companies request their employee to have one but in the post one doesn't use english at all.It's so ridiculous. But the ministry of education have realised the problem that the examination system was reformed.now who passes the exam may gain a paper which record his mark of every item instead of a certificate.

• China
24 Dec 07
We are not the officers of the ministry of education. Although there are so many disadvantages in the Test,what we can do is just adjusting ourselves to the game, to the rules,stengthen our english ability as much as possible-- for our future, for our careers. In other words, we are not study english for the colledge english test-- it is just a basic criterion-- we study englidh for our careers-- this is the ultimate goal

• China
24 Dec 07
I guess that you have attended the CET 4 or CEt 6 last saturday.Your written english is fantanstic, I believe you can get the high score in the test.In fact, it is meaningless to discuss whether or not attending the college english test is meaningful.Obviously, the score of the CEt 4 or Cet 6 can not entirely reflect the english attainments, spoken english and communication,especiall y.However, it is true that the students who can not concentrate on the english study, always cram for coming Test,may find that it's hard to pass the test.Just like all the test, it is a tool to inspire the passion for the study--we can not find another tool as a efficent subsititute.