Do You Sometimes Imagine How you will get to heaven when you Die?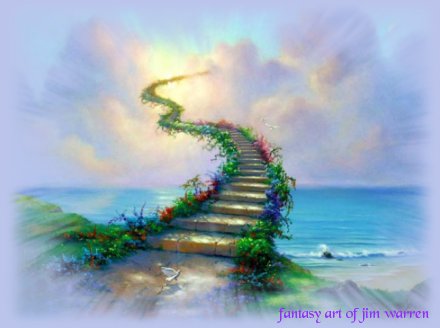 Uganda
December 27, 2007 6:46am CST
What comes into your imagination? Steps climbing into heaven in a beautiful curve with Archangels singing besides youas youclimbe the stair?o you imagine Heaven?
2 responses

• China
27 Dec 07
Hello dear academic friend. I have no idea how we will be on our last day in this human world. Will we still be as conscious as we are now? Or Will we be completely in a different situation? Anyway I find it hard to imagine where we will be led to when that day comes. Of course, it would be the best to fly into heaven with a pair of beautiful wings like the angels do. Thanks.

• Uganda
28 Dec 07
I always imagine if I live right, I will be led by guardian Angels through a stair way just like the pic above, leading me to the land beyond the blue!

• United States
28 Dec 07
I look at Heaven as a state of being. Literally, a state of being with G'd. When you die you are before your Maker and you must make a choice. Will you face Him and ask forgiveness for all the times you have hurt Him in your lifetime, or will you be stubborn and turn away and banish yourself to an eternity of Hell. If you humble yourself and ask forgiveness, you will spend eternity in the presence of G'd and to me that is Heaven. What more could any lowly human ask for?