Computer Name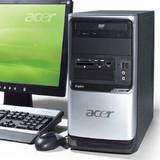 United States
December 27, 2007 3:38pm CST
Have you ever caught yourself calling your computer a particular name when you are frustrated? Or even when your happy? Have you ever been into your computer so much that you basically gave it its own personality? If so, you are not alone. Because I have done the same thing. Let me know about your experience.
5 responses


• India
28 Dec 07
haha....thats funny..calling names for my computer... At present i dont have any name sofr my ocmputer other than assigning one to enable network access to it... but at time when i am frustrated when my ocmputer freezes or such i kick my ocmputer....

• Croatia (Hrvatska)
28 Dec 07
LOL whata funny names of computer... I dont have name for my compter, it is fast enought, i like it, but i never think about giving name to my computer... It is not my pet or something for what is needed to give names... It is a thing which can help you to get some informations, or have some fun playing games... :D I dont have name for my computer

• United States
28 Dec 07
Yes i have named it alright but it is not nice, haha..i do have high speed but at times it will get slow , i supposs on the times when lots of people are on at one time..Then when it does that i get disgusted and call it a no good for nothing sorry a$$ computer..

• United States
28 Dec 07
Yes but it is not usually a nice name lol.