carbonara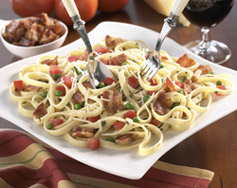 Philippines
December 28, 2007 1:27am CST
that's it. we've finally decided. we're having carbonara on new year's eve. hubby's gonna cook. i will watch. maybe stir the infamous pinoy buko salad while watching. and chicken aside from that. what to do with the chicken? hmmm... i can almost taste the cream... yummy!so what are you having for new year?
3 responses

• Philippines
28 Dec 07
carbonara? what is it? I have never heard about...can you post the recipe and how to cook it I might also dig into it...sounds different but I guess it's delicious...do you think so? by the way...why did you choose it? is it because of something else? like superstitions?

• Philippines
28 Dec 07
the carbonara is the sauce for the pasta. you can use it with spaghettie, fettucini, pene... any kind of pasta. check out the recipe here: http://www.recipesdatabase.com/recipedetail.aspx?id=669 we're cooking it for no particular reason. we just miss it i guess. we've not eaten this for quite some time now. well, good luck. hope you like it as much as we do!


• United States
28 Dec 07
Bruce and I are going out for supper on New Year's Eve. We are going to do Chinese. We have heard about a little 'hole in the wall' place, so we are going to try that place. Then we will go home and ring in the new year by watching the ball drop on TV. It is our 4th anniversary of being together and this is going to be my present to him. I cannot wait. I love Chinese food. I love Carbonara, also. Why not put small browned pieces of chicken in the Carbonara?