Organizing One's Life...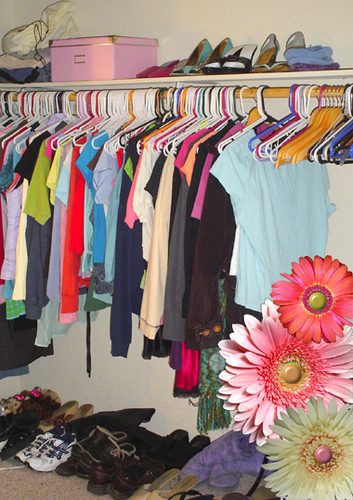 Philippines
December 28, 2007 7:30pm CST
It's New Year, and I'm sure we already have a list of resolutions. In my case, one is that I'd get organized with my life. But it should start with something personal. First, let's organize our wallets or bags. At least I did this already...then the next step is to organize one's closet...get rid of clothes and other accessories accumulated through the years and which have never been used or worn. Gee whiz, I did this too, yesterday. I re-organized my whole room, especially my closet. Then the next big thing is that I'd organize my life....this is something I have yet to do. What about you fellow mylotters, how do you think do we organize our lives after doing the first two? Please share...your valuable insights will be most welcome.
3 responses

• United States
29 Dec 07
Luckily I'm a fairly organized person to begin with...one thing I DO have to do though, and I find it the most boring thing to do, is to sort out and go through all those papers I've accumulated over time...things that I know I can throw out. I hate doing that as it's not only boring, but so darn time consuming as one has to go through all those papers bit by bit to make sure I'm not throwing out anything of importance. Oh, yes, about organizing one's life in general? Again, it's not like I'm unorganized but I really have to start making real "game plans" or goals to achieve and to make sure I DO achieve them--my one main problem as I see it, is that I have too many interests, too many things and I need like 60 in a day to do a bit of everything. I just have to figure out a good way to balance everything

• Philippines
29 Dec 07
That's a good point, and truly admirable. Learned a lot from you. I'm eager to lead a more balanced life just like yours. I'm grateful for this sharing... Looking at my own life will be more goal-directed, thanks to you.

• United States
29 Dec 07
Out with the old and in with the new.i usually get rid of my clothes that i don't wear anymore and give them to a homeless shelter.I try to reorganize outstnding bills or pay them off, clean house so that when the new year comes in all of my old stuff is gone and I'll start fresh.

• Philippines
29 Dec 07
I have not done the first two things yet since im still at work and the 3day vacation last Christmas was spent with my kids and my little boy got so sick that i have to be with him all day. This afternoon i will tackle my dirty clothes which is 2 mountains by the way and yes i will clean out our closet and our room for extra baggages...its becoming heavier by the day. Come 2008, i will resign from my work and hopefully big changes will come my way, like having my 3rd baby and starting a small business, im really hopeful this coming year and for years to come. That is how i organize my life. I like this topic anyway, Happy New Year to you all!

• Philippines
29 Dec 07
Thanks, this sharing is truly inspiring.

• Philippines
29 Dec 07
hmmm.. before the end of the year, i also plan to arrange my bedroom because it's kinda messy already. hehehe. second, i want to rearrange it for the coming of the year. :) physically, i want to have a new look this year so i'll plan to go to salon on 31... for interpersonal rel. improvements, as much as i can, i want to reconcile with my past enemies this year. i would also focus more on improving my studies and my negative attitudes which affects my studies. my goal for this year is to be a news editor of our school publication. kindly wish me luck! God bless all of us.^_^ have a happy new year! ---------------- kindly visit my blogs: http://irisvision.wordpress.com http://simplymela.wordpress.com