Who do you think was the best president ?

United States
5 responses

• Palatka, Florida
31 Dec 07
I have to agree. Even though I was to young to vote back then I like Ronald Regan the best myself. This country seemed to be in a lot better shape then what it is now. I agree he was not afraid to stand what he stood for.

• United States
1 Jan 08
Ronald Reagan took office in Janurary 1981,which means he was voted into office in November 1981.I was 20 years old and my oldest son was almost a year and a half.I was employed.I knew no one that had lost their job.I did not have a great job,but at that time I was able to get assistance,because Reagan's leadership allowed it.Now,I can't get help.When he was voted into office,Carter was in office and that is when their were American hostages in Iran.Carter was trying to make negotiations with them,with no progress.But as soon as they got wind that Reagan was voted into office then they didn't want to face Reagan and deal with him,so they thought that they better release them.Your right that this country was in better shape.I guess that's why he got re-elected too.

• Palatka, Florida
1 Jan 08
I was only 8 years old then. I remember him well because he got shot that was really sad. I was glad that he was alright though. he was a very big help to our country. He has been about the only president I thought that was good.

• United States
2 Jan 08
Yes,that was really sad,when he got shot.But Iam glad he was ok.It is too bad that his associate became cripple that was sad too. That man who shot them got put into a mental institution right here in Washington DC and I had heard that they were going to release him into the custody of his parents.I don't recall hearing if they did release him or not.


• United States
2 Jan 08
I think Bill Clinton was the best if not one of the best we have ever had then I also think George Washington was also a good one because he didnt want the job in the first place

• United States
31 Dec 07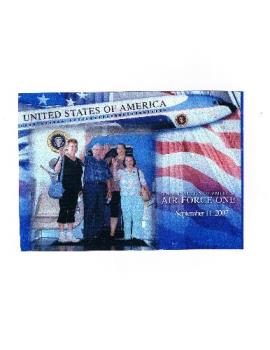 I didn't like Reagan when he was president. My opinion of him as president has changed. I remember everyone being poor during his presidency. I remember high unemployment, cheese lines, no work. I do know that he built up our defenses for our country. I do know that he was a strong president. I really don't have an opinion on who would be my pick for being the "best". This past Sept. I was out in Cal. we went to the Reagans Presidential Library, in Simi Valley. We happened to be there on Sept. 11, we got to tour his plane used during his Presidency "Air Force One". We had our picture taken getting on the plane waving like the President does. That was really nice. They have so much stuff there from his life. They have the Oval Office duplicated with some of he original furniture and stuff. They also have lots of other stuff from his life. I posted the picture, its a copy of it so the quality isn't real good. They have also photoshopped the picture. I am the one in the back, my Mom, Aunt and Uncle are also in the picture.

• United States
31 Dec 07
In my opinion, if someone wants to take into consideration what makes a great president, a great president, I would have to say that Bill Clinton has been the greatest President so far. I think the reason why I believe this is because he was a president that was elected during a time where I was actually able to know what went on. Even though he had an affair on his wife, he was still able to handle it with humor as well. President Bill Clinton had class as well, and was quite smart. An excellent politician who was an Oxford Scholar. A great president is always measured by what he did in office. Reagan, in my opinion, was up to some pretty shaddy buisness during his time in office, however, there is no doubt that he was a good president. As said earlier, I believe the reason why I believe that President Bill Clinton has been the greatest president so far, is for the fact that he was elected during a time that I could remember, attain, and assess.

• United States
31 Dec 07
I really liked Bill Clinton too,but I liked Reagan butter and I don't see where he was up to anything shady.But,that whole thing about that Monica Lewinsky scandel was stupid.If he went out on his wife then that's between him and his wife and should not be fired/impeached.I think that was stupid.If everyman that ever went out on his wife got fired,there would be alot of unemployed men.lol.

• United States
7 Jan 08
Bill Clinton was the best president and I hope Hillary wins to.