A day late and a dollar short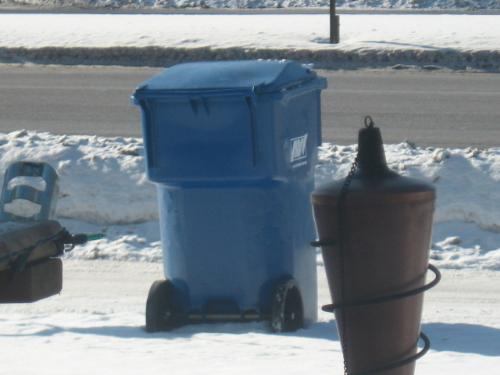 United States
January 2, 2008 1:28pm CST
I'm sure most have heard this phrase in their lives. Well I am not a dollar short but my garbage collection is a day late. Due to the holidays is why. We recently switched companies and we just got used to setting the trash out on the right nights after a few times of not getting it picked up that week due to forgetting the day change as well. Now, just 2 weeks ago we got it right setting it out on the correct night. Or so we thought. HAHAHAHA! Seems with the holidays the pick up is delayed one day which I should have known. HAHAHAHA! So my garbage sits on my snow bank waiting till tomorrow to get picked up. Oh well. Do you forget days of this type due to switching companies or because of the holidays? I do, and I have, and more than likely will forget what night to set the trash out once again. HAPPY POSTINGS FROM GRANDPA BOB !!~
9 responses

• United States
2 Jan 08
what gets me is when they come at 5;30 am and I'm still sleeping and haven't put the trash out the night before. Accck!! I have been a bit confused on the days of the week since I've been off work since before the holidays. I think now that I'm back I will remember better. Ya know...count down until the weekend!!

• United States
2 Jan 08
Ours gets picked up about 9 or so. It's no big deal if we forget. That is until we hear the truck driving off from our house without it being set out. HAHAHAHA!! HAPPY POSTINGS FROM GRANDPA BOB !!~

• United States
2 Jan 08
Yep the holidays can sure throw me off too! And until they made the street cleaning days the same as trash pick up days, I was always confused as to what day trash pick up was for the week. One thing that I have noticed is that I don't have nearly as much trash to put to the curb with both of my daughters moved out.

• United States
2 Jan 08
You have certain days they clean the streets? They clean ours only when they get really nasty looking. We just got used to setting it out Tuesday nights. Then the 2 holidays with their day later pick up. Grrr! HAHAHAHA! It will sit till tomorrow though so I am okay for now I think. HAPPY POSTINGS FROM GRANDPA BOB !!~

• United States
1 Mar 08
Thanks for the best response, it is very much appreciated.

• United States
2 Jan 08
I am really proud of my husband, he kept the postcard that the garbage pick up sent out last January that told of all the holiday changes or non changes. It helped a lot. It still was hard the last two weeks as we get picked up on Tuesday, so this year that was Christmas and New Years day.

• United States
2 Jan 08
I have their card as well. But it's remembering to check it that kills me. HAHAHAHA!! HAPPY POSTINGS FROM GRANDPA BOB !!~

• United States
3 Jan 08
I rent a dumpster which gets emptied bout once a year since I don't go thru that much garbage. Cheaper for me AND I get to pick the pick-up date. lol

• United States
9 Jan 08
Our garbage gets picked up on Monday mornings but I always get mixed up when a holiday falls on Monday and forget whether they're coming that day, the day before or the day after. Usually they come sometime around midnight Sunday when there's a Monday holiday and I often don't take it out until later than that. I try to remember to do it earlier on a holiday weekend but sometimes this old mind doesn't remember too well! Annie

• United States
5 Jan 08
Ours sat out in the cub this week two nights because of the holidays and my husband forgot. Oh well at least we do not have snow.

• Philippines
4 Jan 08
Well there are times that garbage collectors do miss the day here, since there are lots of communities they have to render services at. But most of the times, they do get the trash out in time. I guess it's pretty much understandable here in our place, the holidays does seem to get in their way for atleast a week and everything would get back to normal!=)

• Singapore
4 Jan 08
well, my garbage disposal system is quite different. i really enjoy the convenience of living in a high rise apartment. there is a chute that runs down the block. and a garbage chute opening at the corner of my kitchen. so with my bags of rubbish, i just open the chute and pop the bag in. don't have to get out of my front door. totally cool and easy. i pay monthly charges for the daily clearance of the garbage from the foot of the block. it's quite affordable so far.

• Canada
3 Jan 08
nope i dont have a prob with that at all... we have different days like day 1 or day 2 all up to day 5... depending on the day you have is the day you set out your garbage.. we listen to the radio alot and i mean alot from the time we get up to the time we go to bed the radio is on so they announce several times throughout the day what day it is etc.. comes in quite handy to say the least