How do I fix hair for 3 year old flower girl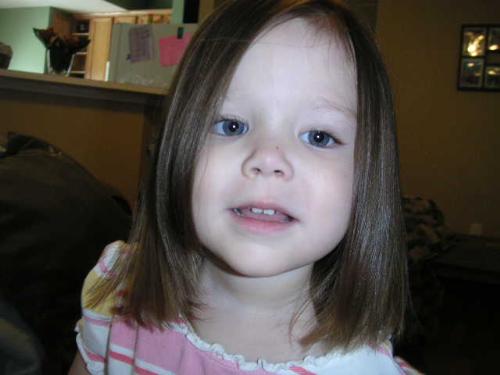 January 4, 2008 12:07pm CST
My daughter is going to be in a wedding Saturday as the flower girl. Any suggestions on how to do her hair? Should I take her to have it done? Is she supposed to wear something in her hair. I'm adding a picture of my daughter hoping that seeing her hair will help give me some suggestions. Thanks
4 responses

• United States
4 Jan 08
she has really straight hair so i would put it up in rollers for the night and maybe get her a little sparkly crown to wear in her hair i love that on little girls i used to do my daughters that way she has very fine hair so i had to put a little spray gel into it while damp with the rollers

•
5 Jan 08
i used a curling iron on her hair today just experimenting, it looked cute, but in about an hour the curls were gone. I'll try spraying next time. Do curlers work better than a curling iron. I have naturally curly hair so I'm clueless when it come to her hair. Pretty clueless when it come to mine to. HAHA

• United States
5 Jan 08
rollers do work better as long as the hair is damp and with hair like our daughters u have to use the spray gel or it wont stay

• United States
5 Jan 08
Get some soft rollers and set her hair with setting lotion. Let this happen a few hours before. Not the night before. get some pins and give her a nice bun when done. The curls that will fall naturally will be so nice. If your not into hair styling see if you can take her to the shop or local beauty school They would love to make your angel look so sweet. I would also not let anyone give her any uncomfortable ponytails. The poor child could have a headache that day. A medium curling iron wrapped around a weft. And sprayed with some holding spray would be nice. You could get some pretty clips for the local family dollar or even $.89 stores. it also would be very cute. A nice sparkling head band would be nice with some bouncy curls in the back. The weather would also be a factor on this day. If your in the heat an up do or head bang would be great. keeping it from her face and eyes. Your daughter is a cutie pie. she would look pretty with a Christmas bow and nothing else. So however you decide. let us see it when you get a chance. Sorry I just went on after seeing her picture. LOL :)

• United States
4 Jan 08
I just had my wedding in July and my daughter was the flower girl. She was not quite two at the time so her hair isnt as long as your daughters. I put half hers up and left the other half down. She has natural curls. Then I had a flower halo on her, which i dont have a pic of cause she wouldnt wear.

• United States
4 Jan 08
If you want a link to the pic of her I will send it for you.

• Australia
6 Jan 08
I guess it depends how talented you are as to whether you should do it yourself :) I always like little girl's hair braided with little pieces hanging down in front of the ears, & those hanging pieces a little curled! Then you could just use a tiara, or just add little fake flowers to a tiara (wrapped around it) - ones that match the rest of the wedding party. Otherwise, you could ask the bride if she has a preference & if she does but it's too hard or you're not confident enough to do it - just ask a hair dresser to style it for you, it shouldn't cost much since it's only styling & not actually being cut or anything. Good Luck!