Bucknor expelled from the series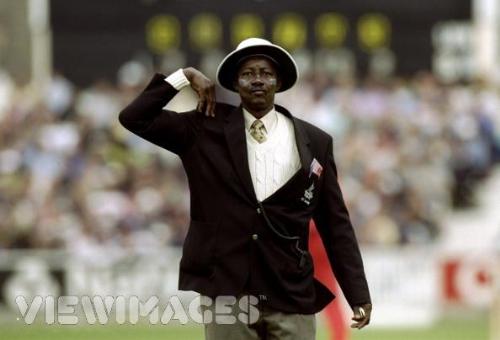 India
January 8, 2008 4:00am CST
What we've seen over the last week is a lot of criticism of umpiring decisions, a lot of iff feeling. says Speed, who expects Bucknor to keep umpiring. but ICC takes decision to expelled bucknor from this series. India have had a win in their battle over the umpiring in Sydney, with Steve Bucknor sacked from offciating in next week's Perth Test and replaced by Billy Bowden and Malcolm Speed, the ICC chief executive, believes India's tour of Australia will go ahead as planned, although he conceded the appeal over Harbhajan Singh's three-match suspension might not be heard before Parth. If the matter is not resolved by then India can pick Harbhajan at the WACA. So what you all think about this ICC decision. I support it.
9 responses


• India
9 Jan 08
I think ICC has set a very bad example by removing Steve Bucknor. If another match is lost due to bad umpiring decsions, the losing team is going to raise the flag again. What will ICC do then? Everytime will remove the umpire, is it? Ridiculous. ICC should look at the use of technology further. When a bowler steps over the line, a buzzer should go signalling no ball. Similar technologies only can protect umpires. Umpires are human and they will make mistakes. Look at the reaction time they have. We all watch the replays five times on the TV and cannot conclude whether a player is out or not. Give some thought to the umpires poor state out there. Thanks.

• India
9 Jan 08
You may be right!! but whereas Bucknor, he always gives wrong decision against Indian players. Look back only bucknor is only umpire who gives wrong decision against Sachin Tendulkar. He never asks with other umpire for clearify. So I think this taken decision by ICC is good.

• India
8 Jan 08
yea we too came across this news , really its been a win for Bcci and a hard knock to BUcknor for what he had done , he should be expelled by the Icc , and regarding Harbhajan's case , i am pretty sure that he will win , and the ban removed.

• India
8 Jan 08
Great news for most of Indians i believe. But as a matter of fact most of Indian batsman never perform still they are allowed to play why? Why aren't they removed? Its matter of form. Why can't umpires have a bad form. Unless it is done on purpose. I love watching soccer which have no TV referee still you come across extremely bad decisions but that is a part of the game you have except it. Be professional. Don't cry on these things.Unless you know someone has done it seriously or purposefully you have to consider it as a mistake and move on.


•
10 Jan 08
ICC's decision is right. But i feel sad for Bucknor. He was a good umpire, but all went wrong on the sydney test. I think it was that huge pressure from Australia did the trick. So hope here after umpires will be carefull in listening to Australians.. They will do and say anything to get a wicket.. And ponting being the worst one and the captain this is going to continue..

• New Zealand
9 Jan 08
good bye bucknor..that what i will say...He was best umpire of ICC but in recent time he was not up to the mark and it is best for the cricket that he should not umpire ..thats really good decision..cheers

• India
9 Jan 08
i in my opinon bucknor shouldnt be umpiring after this debacle and also he is too old abt 62 if i am correct to be an umpire .Also icc should also restricte the age of umpires to 50 odd like footbal where refrees should be below the age of 45 when they stand in the game

• Kottayam, India
8 Jan 08
Bucknor should be put in to a bucket and send it to a some remote island where he would never hear about cricket.This is called cricket or what ??????