"mean mom" sells son's car after misdeed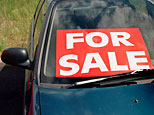 United States
January 10, 2008 6:21am CST
here is the ad she had put in that paper:OLDS 99 Intrigue. Totally uncool parents who obviuosly dont love teenage son, selling his car. Only driven for three weeks before snoppy mom who needs to get a life found booze under front seat. 3,700/offer. Call meanest mom on the planet. Now this kid is 19 and the rules when he got the car was no booze and always keep the doors locked. Do you think the mother did the right think considering he is 19?
9 responses

• Canada
10 Jan 08
I think he should have kept the booze out of the car, but i guess if his parents bought the car themselves, then technically its their car and they are free to do with it what they wish arn't they!? If i was him I would just stop whatever i was doing, and work my butt off till i could afford to buy my own car with my own money and then they wouldnt have a say in the matter would they?! Woot. Sounds easier then it is i guess.

• United States
10 Jan 08
lol yup...save up and buy your own car but would that stop the parents from snooping? He would have to move out to. lol

• United States
10 Jan 08
I think that it was a wonderful idea that the Mom came up with to teach her son a lesson. Depending on the size of the town she lived I probably wouldn't have put as much information. I live in a small town where everyone knows what everyone is doing. Hopefully the son will learn a big lesson here.

• Canada
10 Jan 08
Considering he is 19, he should definitely be smart enough to keep the booze out of his car. Since he obviously wasn't smart enough to do that, I'd have done the same thing. Even at a young age my kids know to take care of what they have and follow the rules surrounding it..otherwise they lose it

• Canada
10 Jan 08
LOL I love it! I think she did the right thing! Maybe I wouldn't have put so many details and embarrass my child, however it gives out a VERY clear message! LOL

• United States
11 Jan 08
i absolutely loved it when i heard about it. I think, with him living under her roof and her buying him the car, that she definitely did the right thing. He knew the rules when he got the car and no matter how old he was he agreed to those rules to get the car. He should have respected her enough and I think that what she came up with was a brilliant idea. I commend her for standing her ground.

• United States
10 Jan 08
I think the mom absolutely did the right thing! I hope the car was registered in her name so she had the legal right to sell the car, but no matter what I'm sure she made her point well. She could have been even more mean and let him get caught by the police with the booze in the car.

• United States
8 Jan 09
I was standing in line at a bank once when this lady in front of me turned around out of the blue and said "My son is 26 years old and he still lives at home doesn't pay rent, I bought him a car pay for his insurance and food and he won't go out and get a job." I told her "Why should he get a job if he's getting a free car and rent and food." Apparently that wasn't the response she wanted to hear and turned back to face the front of the line. My first year of High School I learned that parent can give cars and they can also take them away. Later I financed a truck through GMAC and found out they do the same thing. Now I buy my own cars. they may be beaters but they are my beaters.


• United States
16 Nov 08
Well, he is not supposed to be drinking before he's 21, and if he has the booze in the car, there is a chance he is drinking and driving. A lot of people drink before 21, but that doesn't mean the mother has to let him get away with it. If he worked to pay for that car himself, though, it probably wasn't fair.

• United States
12 Oct 08
Hey if it's like my parents, as long as he lives there he has to obey the rules. I think what she is doing is right. Obviously, he is not responsible enough to make the right decisions and that includes the responsibility of owning a car and drinking responsibly. He is still underage. I think it is a good example of every misdeed has consequences. It could of been worse. She could of ignored it and he could of got pulled over later by a cop and lost his license until he turned 21.