what do you think???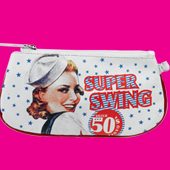 Indonesia
7 responses

• Canada
12 Jan 08
I think it's a cute wallet. Mind you it wouldn't fit into my needs as I need something with pockets and several capartments. I would tell your mom that it's not her that will be using it and that you will be using it. Everyone has their own taste and if you like it then get it and don't worry about it. I'm sure your moms fashion sometimes questions you as well.

• Indonesia
12 Jan 08
yeah... thanks... but my mom kinda harsh sometimes ;p

• Canada
13 Mar 08
I like the wallett, I would definatly use it. i think it is cute and quaint. I don't think it is possible to edit your posts, for some reason. I think you should be able to edit them but then again people might abuse the privelege and try to get extra money by editing all their posts.

• United States
12 Feb 08
Mom's tend to say things like that. I think you kind of have to stand up for yourself if you really like it. This is not really going to hurt her if you want to carry it, unless you have deprived you family of grocery or rent money in order to purchase it, and I presume that this was not the case. Go ahead and exert some independence.

• United States
30 Jan 08
It's very cute...I like the retro look. I guess there's always a difference in style between generations.

• United States
16 Jan 08
Well the whole nautical theme is in right now and it's exploding in my town. With anchors, sailor themes and such. So I would say it's a good buy if the money is worth it for you. I personally think it's super cute! I also think your mom is just afraid for you to spend money on something like purses when you could be buying more things with your money. But i say go for it! Your only young once!