Wigs for cats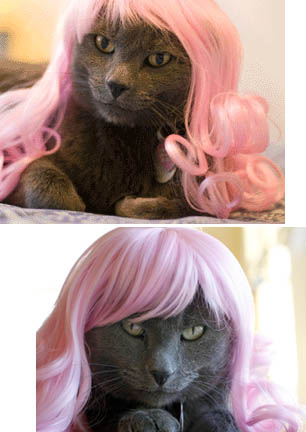 United States
January 12, 2008 4:25pm CST
Would you buy a wig for your cat? I think it's ridiculous.
3 responses


• United States
13 Jan 08
Your serious? A wig for a cat? that has got to be the most insane idea I have ever heard. I have owned alot of cats in my time and have one now and none of them would allow a wig or anything to stay on their heads for no longer then it would take for them to fight it off. Cats may be strange little things but I doubt if they would leave a wig on long enough before they'd have it either have it torn to shreds or chewed up. And imagine that hair ball trying to come up. I do hope they don't have the stupidity to actually buy one for their animals no matter how cute they'd look or do look with one on it could be harmful for the animals.

• Malaysia
13 Jan 08
Though the cats in the photos look fancy, I still won't buy any for mine. I think it is rather torturing for them instead of making them to look attractive. For me it is quite uneasy and uncomfortable to wear wig. It makes the scalp to feel warmer especially wearing the one which is not made from real human hair. It is a burden for the cat to have wig on it. I rather prefer my pet cat always to be as free as breeze without the artificial stuff on its.