Pictures around the house?

United States
January 18, 2008 4:19am CST
My wife and I just moved to Southern California about three months ago to be closer to her family, specifically her parents. I noticed as I am looking around the house that we don't have a lot of pictures up, only one of us during our wedding. I would like to have more pictures, not just of us but of our family members and the people we care about. Do you have a lot of pictures hanging in your home? Who are they of? Do you use frames or just put them up on a wall?
4 responses

• Philippines
12 Mar 08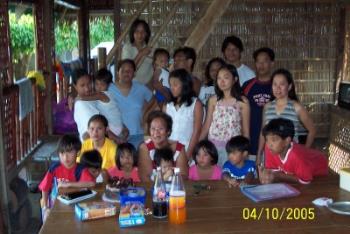 Hi there! We have lots of pictures framed in displayed in our bedroom alone, not to mention the ones that we have in our living room. I just love seeing pictures of ours and our loved ones. I think that they are worthy to be displayed and not just be kept in memory boxes. Having them on photo albums are the next best thing for me.


• United Kingdom
18 Jan 08
I keep photos of people in my family in albums. I have two painting of tropical beaches in my lounge. They are in large pine frames. I also have a photo in a gold frame of a happy day out. It is a photo of A4 size of my two dogs skipping along a coastal footpath. In my hall I have more framed photos, one of the Maldives and one of Belize. Up my stairs and on the landing I have different sizes of framed photos of Samoa. In my bedroom I have a framed photo of Finland. I always use frames for photos or painting on the wall. I think it is nice to have photos of family members up but I like to have places to think back to wonderful travel experiences. At my mum's house she has a photo of my son and my sister's son. They are aged about 4 and 3 in that photo, having fun or bikes in my mum's previous garden. They are smiling and look so happy. Now they are aged 12 and 11. It is lovely to see photos from the past and remember times.

• Canada
18 Jan 08
We actually dont have any pictures up on the walls, we have some of our daughter when she was first born on some shelves, and some of my hubby's son when he was first born. But we do have things hanging on our walls. . They are puzzles that we used to do before we had kids lol. they are all dragons and wizards, and they all glow in the dark. I think its time to change the decore when we move though.. if we get to move.. which i hope we do! I am getting tired of living in the basement wiht barely any sun!