I'm Melting!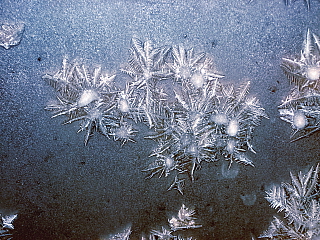 United States
January 22, 2008 4:30am CST
This photo is a bit smaller than I usually upload. This is due to my editing of it to enhance the looks. I was taking a LOT of photos of the ice crystals formed on my front door early Tuesday morning. With the door opened the heat was causing the ice to melt. Look closely at this group of ice crystals. Those somewhat large white dots are actually the melting of the ice crystals. They are actually drops of water in the center of them from the melting process. Why do ice crystals melt from the center outward? I've noticed this each time I take shots of them. HAPPY POSTINGS FROM GRANDPA BOB !!~
4 responses

• Singapore
24 Jan 08
whoops grandpa bob! firstly to say that i uploaded a picture wrongly on your previous post on ice crystals cos i was simultanteously starting a discussion on my new potted plant. i can't add a picture to my discussion now since i've started it, and i can't remove the picture from your previous discussion either! ooops. anyway, yes you must have spent quite a lot of time taking these ice crystal photos - lovely!

• United States
24 Jan 08
HAHAHAHA!! No problem what so ever. HAPPY POSTINGS FROM GRANDPA BOB !!~

• United States
22 Jan 08
I never knew that crystals melted from the inside out - now your getting me side tracked on something else, I'm going to have to find some ice crystals to melt so I can actually see it happen... I have no idea why they would do this but still a great photo subject.

• China
22 Jan 08
Hello Grandpa Bob. It seems that my dear grandpa is now very interested in taking photos of different kinds of ice crystals. But make sure that you stay warm while taking ice photos outside the house.

• United States
22 Jan 08
Not just now. I've done a few other discussions on this type of thing before. I take a lot of photos of many things each day. It's a semi-hobby I guess. I was inside the house but had the main door open. But even with just the screen door closed it was chilly as the temperature was about 8 below zero farenheit. HAPPY POSTINGS FROM GRANDPA BOB !!~

• Philippines
22 Jan 08
Hi GRANDPA BOB! Now, I am really amazed on how beautiful those ice crystals are. it is like being in another world when I closed my eyes and be surrounded with all those ice crystals. Such a beautiful scene as if I am in a fantasy land...Wow! I find myself smiling when I look on those photos you have shared and that I have seen. I really love the photos..I just don't know why ice crystals melt from the center outward. hehe.. Take care and have a nice day! :)