Amy Winehouse

January 23, 2008 2:03am CST
The British press have written about her drug fuelled antics and I am so fed up with seeing pictures of Amy in a stupor. I feel her lifestyle is being glamorised and her addiction is being sensationalised. I think this is wrong and I would like to see no press coverage until she sorts her life out. Amy has a great talent and it's so sad to see her in such a bad way. What is your opinion on Amy Winehouse ?
3 responses

•
6 Feb 08
I also read that story. How sad lets hoe she can turn her life around before it's too late. I enjoy her music and I personally think she has a great talent.

•
25 Jan 08
i think that she is a very talented individual and although her husband is in trouble of his own, he deeply cares for her, trying to make her fans stop buying her albums until she sorts herself out! its just a shame that these celebs dont have some strong figures around them to just say no, and give them a short sharp shock! she is destroying her career and her life and it is a shame to see more and more youngsters going down this route!

•
25 Jan 08
I read today that Amy is now in a clinic let's hope that she gets the help that she so desperately needs. And she may continue with her career as she has a talent that would be so sad to see go to waste.

• Philippines
23 Jan 08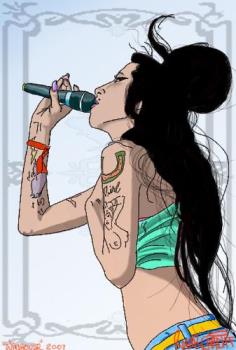 well... i saw those as well... really bad for the public, but what do they care? the press is either destructive or degrading .. i dont really know why they love to do that. same with lindey lohan, they made it more and exaggerated it, so she could be in depression,with amy, they are really just jealous, a spice and just a feast on public eye. whew... press..