Game sites that pay out? Winster does!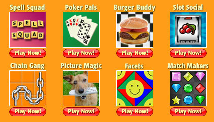 United States
January 25, 2008 5:34pm CST
I know this subject has been discussed over and over ... but ... I have been playing on Winster for about 2 1/2 mths .. and I have cashed in for almost $100 worth of Amazon gift-cards!! Now ... this isn't free to play, but at only $9.99/ mth I am getting at least 3-4 times what I am paying back in prize money! Now its still not going to get me rich, or even close, but its fun and its nice to win a bit here and there too! Anyone else play there? Or play somewhere else that really pays out? ~Rachel
2 responses

• United States
26 Jan 08
Game sites that i have been to that pay out are Winster, Moola, Netwinner, and pogo. I have been having some good luck also with a site called King.com..although I haven't won yet and received a prize they have some cool games you can play for free or become a gold member by paying. This is similar to pogo. Happy Gaming.

• United States
26 Jan 08
I don't think I have ever heard of King.com What kind of games do they have there? Happy Gaming to you too! ~Rachel

• India
26 Jan 08
Wouldn't this discussion proceed in a better way if you guys stop repeating the same sites , and suggest some good ones yourself ?

• United States
26 Jan 08
This discussions was proceeding just fine ... til you posted. I asked for people to share, not only their winster thoughts, about game sites that pay in general. I did not just ask for lists of other sites! If you cannot add something worthwhile to this thread then why are you bothering to post here at all? YOU are the one who is not following the intent of MY original post. Please feel free to reply to posts, when you have something relevant to say. Otherwise I would suggest you quit attacking others who are doing so. ~Rachel