Computer Hardware - Know about which motherboard to choose...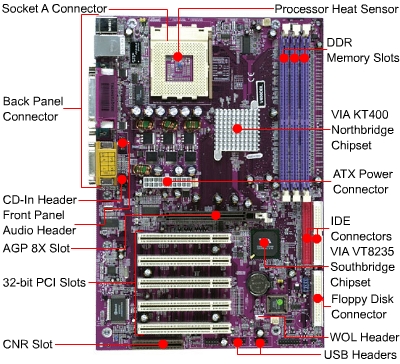 United States
February 2, 2008 12:31am CST
As a PC Technician I build computers for a living. And when it comes to building a good system I have to make sure I buy a proper good working motherboard. The motherboard is the body of your computer. The processor is the brain working with the memory RAM. Then more parts are added on there like the Power Supply which gives life to your machine - without it is like a dead person. The video card of course that gives graphics and display and then your sound card to give sound to hear, your hard drive which stores Windows and all your files, your CD/DVD/Burner Drive to use for listening to music, watching movies or burning files to CD/DVD. So the motherboard does a lot of work when you turn on your computer. The motherboard has what is called Front Side Bus (FSB) the faster the FSB the better the motherboard transfers signals binary codes 0 and 1 to your hardware parts - mainly all the computer hardware parts that connect to your motherboard. Now a good brand motherboard is very picky and sometimes hard to find. Even from techs who mention which motheboards are good or bad - even the best motherboards tend to fail. Why because for one you can probably purchase a motherboard that is DOA (Dead On Arrival) or already defective. You can also buy a motherboard and expect hardware incompability issues especially when motherboards are very picky on what RAM is requires. You can also come across issues where memory bank slots on motherboards are defective and cannot allocate RAM properly. Also some motherboards are very picky at what Hard Drives you install since some will not recognize and some will - this is true fact when installing Maxtor Hard Drives or SATA Western Digital Hard Drives. The motherboards I usually choose are ASUS or BIOSTAR - I have chosen MSI before but nowadays they don't do me good - for they say their FSB is fast, it doesn's satisfy me. I've used ASUS more often and these boards are superb and excellent. I choose BIOSTAR for a low budget but decent use for building a system. And I've came across bad sales techs bad talking about BIOSTAR and what are they going to say to me who's been a technician for over 10 years and not even one BIOSTAR board has ever crack down on me? Other generic motherboards I tend to stay away and one thing is for sure is I will never ever buy an Intel Motherboard - for one I've bought 3 of those motherboards to build an Intel Server with Intel Core 2 Duo processors - but then putting them into Asus boards they fired up pretty good. Intel is good for making processors - that's it!
1 response

• Philippines
2 Feb 08
i remember when i studied computer science in naga city and they talked about motherboards but i forgot it already haha that was a long time ago. i remember when you were building the computers you always bought biostar yes and i know you were kind of mad because they did not have asus but you know our parts are probably different here than over there. but reading this again always refreshes my memory hehe.