How many of you like kittens and cats?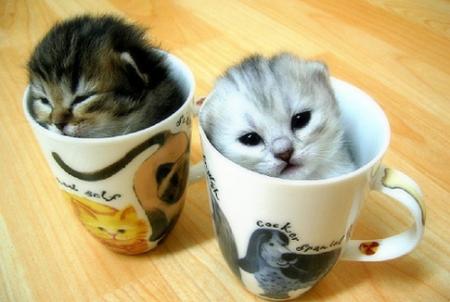 Philippines
February 4, 2008 4:54am CST
back home where i used to live in bicol my house has many cats, i like them, so cute but then again they scratch alot and want so many attention because maybe there are hungry. i must have like 8 cats around the house there i'm not sure now. how bout you do you have cats at your home? how many?
3 responses

• Malaysia
5 Feb 08
yes i do have cat..but i have it in my room at my hostel..i have only one male cat..he's about 8 months..he's really cute,funny,yes he does wants very much attention from me...sometimes its making me crazy...but when i look at him...aa..cant scold him right...he just so cute..so i'll play with him,talk to him what eva i can to give him my attention n show him that i care n love him...eventually he'll get the msg

• Philippines
4 Feb 08
I have to agree that kittens are cute but when they start growing some of them tend to act very wild and defensive. I see a lot of stray cats also back in Bicol around Naga City. Unfortunately, we don't have cats, but when the scratch oh my goodness would it hurt.

• United States
4 Feb 08
Well as if I can't remember you cats back home. I think you had more than 8 to begin with. But my favorite cat of yours I remember was Bitok - that cat just had a face of being miserable, bored or was just not having it. I used to make fun of your cat for looking like that because everytime I see it it's like he's saying, "What do you want?" or "Somebody shoot me!" Hehe and that other cat you had when it was just a kitten used to climb up wanting me to feed it corn beef and the your other cats just gang up on it. Yeah I remember those days well