Penguins and Birthdays!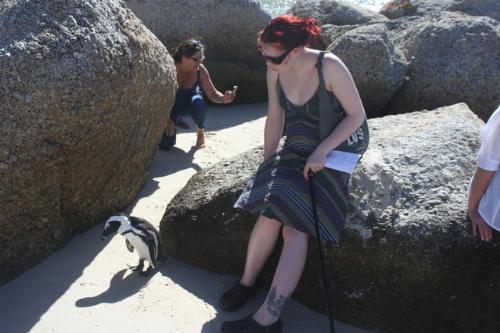 February 6, 2008 5:40am CST
So following on from my post and picture yesterday about getting to pet a cheetah, I wanted to share another picture from my vacation in South Africa. Of all the places in the world to find penguins, South Africa was the last place I expected. I thought of penguins and I thought of cold! Nonetheless, at Boulder's Beach, not far from Cape Town, is a protected beach area for the South African penguin, also known as the "jackass" penguin because of the braying sound they make. On my 25th birthday I was lucky enough to get to visit this beach and spend time with these gorgeous and adorable birds! I sat with them and watched them and even went paddling and one whizzed past my feet. What's really lovely about them is that they mate for life, so there were lots of couples together. I wish I could include more photos in this post, but unfortunately I can only put one in, so here is myself and one of the little loves!
1 response


•
6 Feb 08
I got to learn a lot about the animals I was seeing because at the safari park I went to we were lucky enough to have a guide that knew a lot about them. I'm also planning on reading up on the penguins. They're so fascinating! xxxx