OMG--How Cute Is This?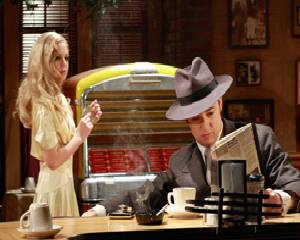 Canada
February 11, 2008 9:58am CST
Apparently, Valentine's Day on GH will last for 3 days our time. Wednesday, the 13, Thursday, the 14, and Friday the 15th. I can't wait! Bradford Anderson (Spinelli) will sing "My Funny Valentine" (See picture that I posted! With the release of ABC and SOAPnet's new CD "A Love Affair" on January 29, "GH" will do their part in promoting the Buena Vista Records release by using Anderson's rendition of the song during upcoming scenes involving Spinelli (Anderson) and Maxie Jones (Kirsten Storms). Looks like Maxie has her jair extensions on again too, lol! On the February 14 episode of "GH," Spinelli and Maxie will be involved in a film noir fantasy, which was shot entirely in black and white, a la "Casablanca." "Valentine" will be the underlying music as the two share dialogue. And here is some more information from Shirley at GHH2 regarding the Claudia and Jason meeting: I don't understand why Jason would be waiting for Liz at Jake's though. Aren't they supposed to be keeping their relationship secret? Jake's isn't exactly a secret place to meet. Am I confused at what you guys are reading? No, Jason gets a call from Liz and he leaves after Claudia tries to put moves on him!Jason is looking for Claudia and when he does find her at Jake's they play a game of pool (I wonder who will win?). He wants to negotiate a peace agreement between the Two Families. Claudia will soon discover that Jake is his son; Jason is concerned who she might tell.
1 response

• United States
12 Feb 08
I can't wait till V day. I'll tell you what if it wasn't for DVR I would go nuts! I would hate to have to watch a commercial during GH again. I am not really feeling the Spinelli and Maxie story line probably because I don't really like her and I love him. It would be great to see some thing happen between Jason and Claudia that Sonny finds out about. Then the Sonny Jason duo would be over for sure. It wouldn't be to good for Liz at first but she would forgive him and they could live happiely ever after. Well in soap time lol.