Do you have any children's birthday party games ideas?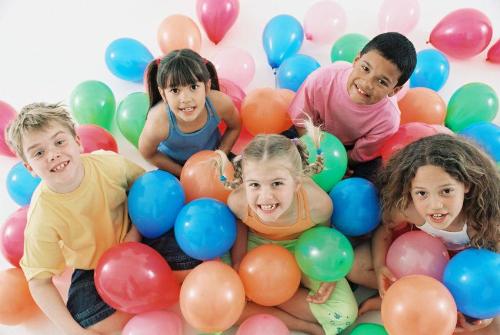 Canada
February 12, 2008 6:47am CST
It's that time of year again. My twins will be 7yrs old on February 17th, and I'm hosting their birthday party in our home on Saturday February 16th from noon to 4pm. I'm tired of the same old games we've been playing for years, and I'm asking for advice on some proven good and fun games that you have had for your kids (or have seen done at other parties). One game that isn't really a game that I love, is a balloon popping game. I insert a folded piece of paper with a number on it into the balloon before blowing it up 1/2 way. I also have numerous wrapped prizes (usually dollar store toys) with those same numbers on them. The balloons get dumped out on the floor, and they each grab one and pop it to get their number and corresponding prize. Of course, with the balloons only being blown up part way, it makes it harder to pop them, as you can't just sit or stomp on them. It really is hilarious watching the kids being so creative figuring out how to get their number. lol. Do you have any other game ideas that are cost effective and lots of fun for 6 and 7 yr olds? The party is indoors in my playroom/basement. Games that have winners are fine; I have tons of little prizes to give out. But games that have no winners are just as fine. There will be 10 kids in total. I'm really looking forward to your new ideas. I am getting so burned out with the same old games I've been doing for so many years.
6 responses


• Canada
12 Feb 08
Yes, of course I need to ask them. :) I just want to present to them some new game ideas as well, and instead of doing an online search for games, I think it's best to talk to others who have tried and tested these games, so I know whether or not they work. :)

• Canada
12 Feb 08
We did the self decorating cupcake idea last year, and the kids had a blast! I even had them decorate an extra cupcake or two to bring home. This year, I've ordered a cake. It is a Pirates of the Caribbean cake... and looks uber cool! :D Hahahha... what a great idea to go to a store WITH the kids and ask about discount supplies. Too funny! The problem is, my twins aren't as adorable anymore, and they don't even look like twins anymore (they were born 2 minutes apart, but there is about 6 inches and 30 lbs between them).


• Canada
12 Feb 08
Well we had a dance a thon for my 7 year old party. They loved that but it was mostly girls....Have you thought of a pinata? That takes awhile for each kid to go through it and hit it. If you ahve the room it is a good idea. Hopefully you will come up with some good ideas but I'm sure what ever you do the kids will ahve a great time and that is all that matters!!!

• Canada
12 Feb 08
A pinata sounds like a lot of fun, but it isn't very cost effective for my budget. The ones I"ve seen at local stores (like Walmart) are about $20 each, and then there's the cost to fill it with goodies as well. As for the dance-a-thon, that does sound like fun, but I'm not thinking most of the boys would be interested (there are only 2 girls invited). I'm starting to think that having a bunch of free play time is what will happen. lol. Maybe even have a movie going on in the background too.

• Canada
12 Feb 08
I don't want the trouble of making one to be honest. Cheap and easy is what I aim for. Oh, and fun. ;) Maybe for my older son's birthday on May 29th I can consider it. That way it could likely be done outside. I don't like having a lot of clean up either. lol.

• India
12 Feb 08
Dear CanadaGal, Have you tried out treasure hunt. As the kids can find out numbers and some short words like cup, shoes which they can identify either with or without pictures. Make them into groups or if you can give more gifts let them try to find out the hidden treasure. The hidden treasure will be something which all could share, like a cake or a box of choclates. All along the with the clues you could keep small gifts which the kids will find lots of gifts. You could also make them sit around a circle and play the passing the parcel. Who ever have the parcel when the music stops have to do something like singing, dancing, jumping, barking etc etc. Also you could display lots of things in a place and ask the kids to write them down after seeing those things for a min or so. You can also ask them to write a certain word for so many number of times and who ever writes the maximum number of times is the winner.

• Canada
12 Feb 08
The majority of the kids coming are 6 years old, so games involving writing things down won't work. Maybe next year though. I like that singing or barking one... lol.. that sounds hilarious! I do a game like that where I wrap a gift numerous times, and when the music stops, the person holding the gift unwraps it. Of course, there are numerous layers of wrapping, so you never know how many rounds each gift goes. lol. The treasure hunt sounds good too, but again b/c of reading and writing abilities, I'm not sure this year is a good time for that. I also don't relish the thought of a bunch of kids running throughout the entire house. hahaha!

• India
13 Feb 08
Dear Canadagal, Regarding the treasure hunt, you could just scatter goodies or small toys all around the place where you organize the party and give each of the little guests a cover with their name written on it, they could collect as many as possible in their cover and after the game they have to place it on the table and can take it home. This way they wont compare as to what the have got and what not.

• United States
12 Feb 08
An egg relay race is always fun. Using 2 hard boiled eggs or plastic eggs, form 2 teams. Each team is to line up single file behind the starting point. Using a spoon (the smaller the spoon the harder the game) carry the egg down to the end(using one hand only makes it harder) and back and hand it off to the next person.If they drop the egg they must go back to the starting point and start again.Another game is pass the balloon. Again form 2 teams. Each team is to stand single file. Using a very large balloon, the object of the game is to get the balloon from the front of the line to the last person in the line in the fastest time. You may not use your hands only your legs(knees) to pass the balloon. If the balloon is dropped you cannot pick it up with your hands just your knees. This is really a fun game to watch.

• Canada
12 Feb 08
I have done a variation of your relay race suggestion at previous parties. I'd make the kids put on a pair of those wacky big sunglasses, and they'd have to balance a ping pong ball on a spoon to a mini pylon at the other end of the room, walk around it, and then come back again. They they would trade off their stuff to the next person. First team to get through would win a prize. I don't have any other adults helping me with this year's party, and I found from previous attempts at that game, it is really difficult without another adult helper. The balloon one is a maybe. I'll have to ask my boys if they like the idea of that one... we can try it out ourselves to see how it goes.

• Canada
12 Feb 08
i have played a game with my kids and put about 10 different things in 10 different paper lunch sacks and they kids get a chance to touch the bag and they have to try and guess what it is. also, when my 10 year old was a little younger, we had a princess party, where they had to pin the jewels to the crown (like pin the tail on the donkey.)

• Canada
12 Feb 08
I like the guessing game idea... I have TONS of paper bags in my craft section in the basement. Pin the tail on the donkey, and pin the nose on the clown are two games I have in my party bin. I'm bored with that game, but I'll ask the boys if it's one they would like to play again at this year's party.