"The Final Cut" - what if it were available today?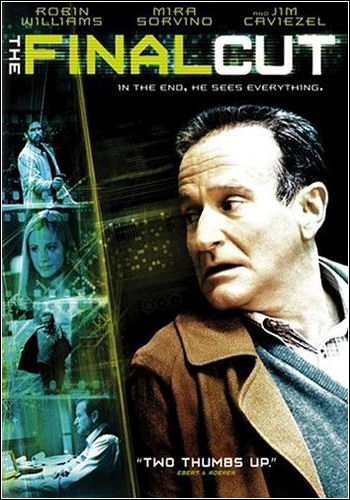 United States
February 13, 2008 11:30pm CST
I just finished watching the movie "The Final Cut" (2004 movie with Robin Williams & Mira Sorvino). Here's the synopsis that I got off imdb.com "The story is set in a world where implanted microchips can record all moments of an individual's life. The chips are removed upon death so the images can be edited into something of a highlight reel for loved ones who want to remember the deceased. Caviezel portrays the leader of the organization that opposes this technology's development." I was thinking throughout the entire movie of how bizarre it would be to have that chip implanted! I can see some of the appeal to this but it would be so strange to think someone (they called them 'cutters') would see exactly what happened in my life…including personal things. Though it would be great to have memories of family members that you 'lost'…I don't know. Would you alter what you said and the things you did because you knew someone would watch it one day? Or would you try to (as some did in the movie) screw up that signal if you had it? Would you want your parents to have had one implanted in your brain before birth (that's how it was done)? Would you implant one in your unborn child? Over all how would you feel about it?
3 responses

• United States
14 Feb 08
Ahahaha. When I First read your subject line I was like "Uh...Final Cut is available, I own it on DVD. Bought it like 2 years ago". that's funny. And No. Probably because I've seen the movie, I would not want that availability. Nor would I want that job. However, Eternal Sunshine of the Spotless Mind, I would take that one. Most Definitely.

• United States
14 Feb 08
LOL - I didn't even know about that movie until I was going through searching different actors movies one day on Netflix. Would you want the job of erasing memories or would you erase the memories? I'm on the fence on that subject. Because I truly believe our past shapes who we are today and I'd be afraid erasing those memories would alter us in some way. Eternal Sunshine is one of my FAVORITE movies of all time :)

• United States
15 Feb 08
No. I wouldn't want anything to do with it to be honest. I think it would just be a little too close for comfort. It's true, sometimes I'd like to erase my memories, but at the same time there is always that truth that our past is what makes our present. It's a good movie. It was one of my random blockbuster previously viewed movie buys. I do that once in a while.

• United States
15 Feb 08
I find it totally creepy! Whenever I see or even think about a movie like this I think how dangerous this kind of technology could be in the wrong hands, as in the hands of the current Administration. If we think it's bad that there's a room in San Francisco with every one of our phone calls saved, just think if they could put a microchip under all of our skin! Annie

• United States
15 Feb 08
No kidding!! Another movie and it's technology that really freaks me out is "Minority Report". That sounds like the kind of thing our current administration WOULD install. I'm not a fan of any chip being placed in me and if I have absolutely any say at all - it'll be a resounding NO!

• United States
27 Feb 08
The idea is great for keeping criminals in check or possibly searching for someone who is missing (like they have for pets now) or possibly tracking a wanted criminal but no, I wouldn't want my privacy invaded nor would I do it to my kids.

• United States
28 Feb 08
The thing is though it's extremely dangerous to view the memories while the person is alive. And it had only been done twice and the first time the lady was a veggie for the rest of her life. They'd have a 5 minute window to search through all the memories. So it wasn't used for law enforcement purposes.