Truly twisted sister here!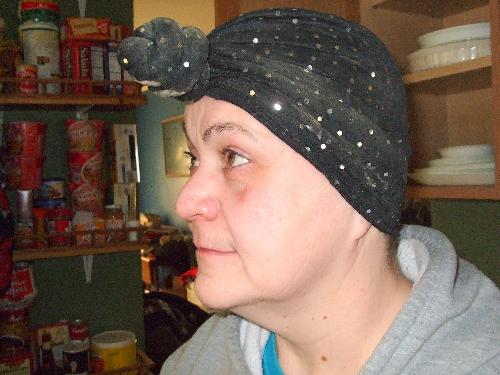 United States
February 16, 2008 8:45am CST
OK, so it's Sat. am and I am still really, really down over yesterday's turmoil (that's another discussion!), plus I have the ghost of yesterday's awful headache. Yucky way to begin the weekend! I was clearing things off the coffee table, when I tried to place a tray on its accustomed shelf, it wouldn't sit level. When I removed the offending object, it turned out to be a head cover that my SIL's well-meaning sister had bought when SIL was diagnosed with brain cancer last year, along with a white kuffee. Neither has ever been worn, and my sense of silly was soon tickled, hence this photo. When I looked in the mirror, it reminded me of an old joke: "If you had a six-inch pen-is growing out of the middle of your forehead, how many inches would you be able to see?" (scroll down for answer) Answer: "None, because the balls would be hanging in your eyes!" My sense of humor to the rescue, once again! Have a great weekend!
1 response

•
17 Feb 08
Hey sweety - your sense of humour made me laugh too sweety! Sorry but that joke combined with that headwear just started a fit of the giggles that refused to go but they say laughter is the best medicine right? At least your sweet bald head would have been warm again honey! xxx