What Are Some Of Your Favorite 80's Commercials?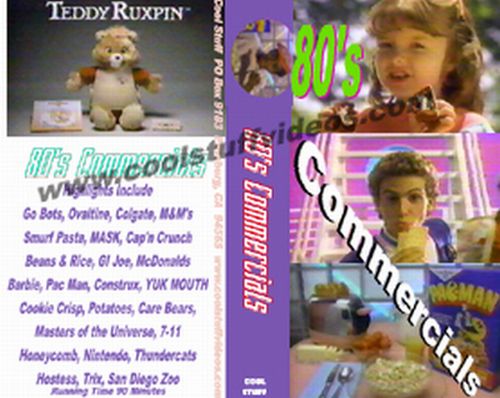 Australia
February 17, 2008 8:34pm CST
I have a few that I really loved growing up. My all time favorite was the Tootsie Roll commercial. You know with the jingle that went, "A toosie roll for you and a tootsie roll for me, tootsie roll I think I'm in love with you. Whatever it is I think I see, becomes a tootsie roll to me". That was a great one! Another one I liked was a McDonald's commercial they had, I can't remember too much of it but it went something like this, it was raining out and the kids were in their room sad because they wanted to go out and play. So, the mother comes in and said they were going to McDonalds and they got all happy. It ends with the boy in his little yellow rain coat splashing in a puddle I think. That was really cute... And of course, I loved the "Mikey likes it" and the "Where's the beef" commercials. Oh and the Oscar Meyer commercials were great. The ones where they sung the Oscar Meyer song, "My bologna has a first name, it's O-S-C-A-R. My bologna has a second name is M-E-Y-E-R. I love to eat it every day and if you ask me why I'll say, it's B-O-L-O-G-N-A". That was awesome! What are some of your favorites?
1 response

• United States
18 Feb 08
I like the ones for the glad trash bags...hefty hefty hefty..wimpy wimpy wimpy, the california raisins and of course the old time classic...where's the beef??

• Australia
18 Feb 08
Ohhh Yeah, I remember those glad commercials. They were pretty funny. The california raisons commercials were pretty funny as well. I forgot about those two :-P