How do you arrange your cupboards in your kitchen at home?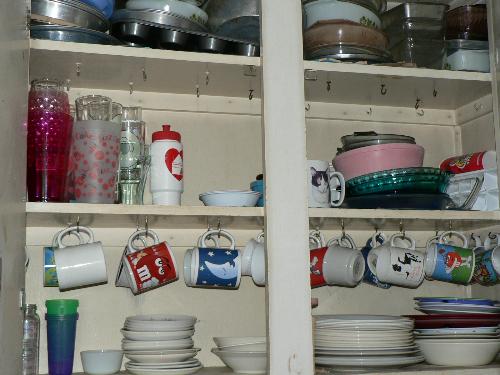 United States
February 17, 2008 9:36pm CST
This might be a weird questions but I'm curious as to how other people organize there kitchen cupboards at home. My one cupboards above the countertop area I rearrange all the time. Do you just toss clean cups in there and dig around for one you want or do you organize them a certain way. I have all the things I don't use often like muffin pans up on the very top shelf. The middle shelf holds the tall glasses as well as large bowls and my childrens plastic bowls. The bottom shelf lol is my favorite. On the left I keep my childrens cups and bottles etc. Then to the right of that I have small dessert bowls, then small plates then bowls. Then on the right side is the large plates and childrens plates. Above those are hooks that hold the cups.
7 responses

• United States
18 Feb 08
Wow, nice cupboards! :) Yours isn't a weird question to me or anyone who knows me... I'm kinda OCD about my drawers and cupboards. My house can be a mess, but when you open a drawer it's going to be neat and clean and organized! :) Of course, in a family with only males left, I'm the only one who goes crazy over the storage areas. I live near the desert in Southern CA, and it gets pretty dusty around here. For this reason, I keep my cups upside-down or in one day they will have a tiny film of dust collecting in them. To keep them from adhering to the base, I have those non-slip cupboard liners (tip: you can find rolls of these at just about any dollar store). A friend of mine uses those in her utensil drawers as well to keep her spoons and knives and things from sliding around every time the drawer is opened or closed. Unfortunately, I can't use the cup hooks since we have very old-fashioned metal cabinets, and I'm not in the mood to drill holes. Some day I'll have my kitchen remodeled and get all those great cabinets you see in the home-depot and lowes stores!

• United States
17 Oct 10
Well I'm glad my question didnt seem weird to you. I am OCD about a lot of things. I love having things organized. I always wondered why people place their cups upside down in a cupboard. Now thanks to what you said I realize its to keep them free of dust. We have another set of cupboards that are old fashioned thin metal cabinets but I dont keep my cups and stuff in those. I wish I had wooden cupboards on that side as well.

• United States
18 Feb 08
My cupboards are organized with the plates all in one cupboard and the glasses in another. The glasses are organized by size of glass with the smallest in front. I have another cupboard with spices and the ones I use the most are in front.

• United States
18 Feb 08
PS I can't use the hooks, as swinging cups in an area with earthquakes isn't a good idea.

• United States
17 Oct 10
Looks like you organize your cupboards as well instead of just tossing them in anywhere. You wouldnt believe how sloppy some people can be. I never thought of that but yeah lol if you are in an area that has earthquakes putting cups on hooks isnt a good idea. I dont have to worry about that here.

• United States
18 Feb 08
I am very particular about how my cupboards are organized. I like everything to be in a certain spot so that I can find it easily. I also like things to be stacked according to size. Unfortunately I have 6 boys, a hubby, and a mother that live with me and they are not as particular as I am so I find myself constantly rearranging the cupboards.

• United States
17 Oct 10
I like everything to be in a certain spot as well. I am very organized. I cant imagine living with such a carefree attitude where little things like this dont bother me lol. I am the only one who puts things away in my house so my cupboards luckily stay as I want them.

• Australia
19 Feb 08
Because our house is rented, and it's cheap (our first time renting together) we have hardly no cupboard space. There are cupboards, but the kitchen is probably 50+ years old and they're not in the best condition. So when we moved in, my fiance's parents gave us two pantry cupboards and they store our food and our pots and pans and plates and bowls. And baking trays and muffin trays and measuring jugs and tupperware containers! I try to keep them sorted and neat but when my fiance dries the dishes he throws things everywhere and it's so irritating! I suppose I shouldn't complain though-at least he does the dishes!

• United States
18 Feb 08
My cabinets are very well organized. On the left side of the sink all my bowls, regular plates, and saucers go in that cabinet. The bowls are stacked biggest to smallest with the lids standing along the back wall (if they have a lid). My plates are also stacked from largest to smallest being on top. On the right side of the cabinet is where all my cups, glasses, bottles, and sippie cups go. They are always upright smallest in front, largest in back. In my utensil drawer the items all have their spot. Spatulas, Stirring Spoons, Large Knives, and Rubber Spatulas all go in this drawer. My silverware goes in different slots varying sizes and what type.

• United States
18 Feb 08
Usually, i don't arrange them in any certain way. I have my plates, bowls, and stuff like that in one cupboard. and then i have my glasses and medicines in another, but as far as my pantry goes, the only thing i arrange is i put my canned goods on one shelf...not by foods, they are all a mess, but they are there and then everything else just goes where ever i find a place for it. LOL! God bless

• United States
18 Feb 08
Frequency of use takes priority and those go in the easy to reach places.