Live footage of the pilot's view during landing.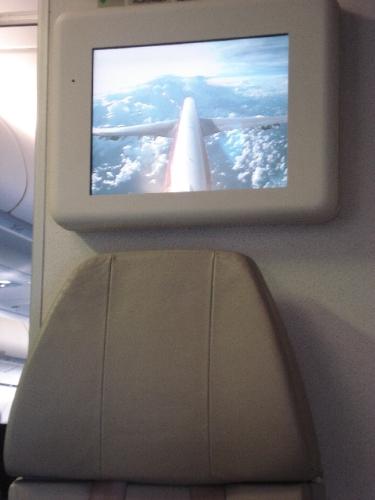 Belgium
February 18, 2008 11:51pm CST
On my last international flight with Iberia, during landing, we got to see the live images from some sort of web-cam, probably attached to the tail. I could easily check that it really was our plane, as I sat next to the wings and could see the wheels go in and out at the same time. In this particular flight, we tried to land twice before the pilot decided to fly to another airport. Do you think the in-flight live footage is a good idea? I can imagine that it's got to be horrible for people with fear of flying, and it's alñost impossible to look away from as it's shown on all the screens.
4 responses

• United States
20 Feb 08
Wow thats a really interesting idea! I've never experienced that before. And I used to use Iberia all the time when I was younger and traveling to and from Spain. I think something like that should be optional, instead of putting in front of people like that. Maybe make a "channel" for it and let people watch it if they would like to, instead of possibly panicking people. What if something goes wrong or just appears to be wrong? People would be in a panic even before the pilot could make any sort of announcement!

• United States
20 Feb 08
I personally think it would be really exciting to watch that, but I can see how it would really freak out people who have a fear of flying. I can also imagine it could cause a panic if something were to go wrong during the landing. So I'm not sure if it's the best idea for airlines to use...

• United Kingdom
19 Feb 08
I think this sounds like an interesting experience to have seeing in flight live footage of the plane's progress. When I fly I always like to see a route map of where the plane with fly over. I also like to know how far up in the air the plane is. I prefer it when the plane comes down slowly as this is nice and smooth. The worst flight I have been on was from London to Tunis and then on to Sfax. It was bumpy up in the air and people were spilling tea and coffee. It was a bad landing in Tunis and I felt terrible ear pain and the landing in Sfax was awful and I was sick. I think if in flight live footage of the plane's progress was on that flight most passengers would have been scared. I know a few people that are frightened of flying and live footage might put them off flying even more.

• United States
19 Feb 08
wow thats a really neat, and at the same time scary idea lol! i would certainly want to watch it, but i can see where someone with a fear of flying would be close to panic! i wonder what the purpose for doing that is though, cause for the most part, especially in a case like you mentioned having repeated attempts at landing, it would just be stressful and could occasionally cause down-right panic to some individuals. neat idea though..dont imagine it will gain wide-spread practice.