Which personage do you like in "Prison Break"?And why?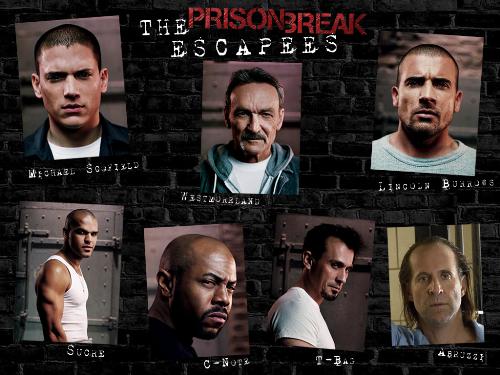 China
February 20, 2008 1:14am CST
I'm madly infatuated with Prison Break.The soul-stirring plot and lifelike personage really attract me.How do you like this show and which figure do you like most?As for me,Micheal is my favourite one and i think most people is the same.Not only for his handsome face,but also marvellous intelligence and excellent acting.Especially in season 1,we can clearly feel that how wonderful Micheal is!When enjoying the show,you palce yourselves in "prison" totally. You may extremely worried about what to do when it comes to a critical moment,feeling just like you are the one breaking out!!! But you never find it disppointed.Micheal can always fix it rightly out of your expectation... To mention the acting performance,T-bag is absoltuely not the one we'll miss to discusss.In the show,we can see how tricky and cruel he is.He acts so real that we "hate" him so much.Haha.. So what do you think of that? Just share your idea...
9 responses

• United States
27 Feb 08
Michael Scoffield of course. His intelligence is intriguing. The man knows whats going to happen before the person even makes a move. But T-Bag is awesome too. The man will do whatever it takes to survive. He creeps me out when he talks, when he is sneaking around in the corner. That makes me a great character. If he leaves the show, it will get slightly boring because the show needs one crazy person.

• Philippines
25 Feb 08
of course, i would pick michael scofield, it's because of the total package. He is very intelligent and skillful at the same time hot and very attractive. His love for his brother is likewise very striking since a few would dare to do that out of love. It is very extreme for a person who would do that.

• China
21 Feb 08
T-Bag.He is cruel and his performance is perfect,but I'm not cruel


• Botswana
20 Feb 08
I forgot to mention that Michael is helpful as well. He is kind and intelligent thats why I like him so much.

• United States
20 Feb 08
Michael Schofield played by Wentworth Miller. He is on my top 5 list all 5 times! He is just the hottest person on TV! Not only is he a great actor, he is as intelligent on the show as he is off the show. He went to one of the Ivy League schools. I think he went to Princeton. I always forget which one. I also learned a little known fact. Did you know that his eyes are 2 different colors. One is blue the other another color. I can't remember which color but, I read it in an article. So hot! That guy makes me drool a little! I also like Sucre and am so sad about him now being stuck in Sona.

• Malaysia
20 Feb 08
i like michael too! he's so hot! he's probably one of the reasons why i'm so into prison break haha. i wasnt a fan of prison break when it started but then i watched it since everyone was like talking about it. and i got hooked!

• China
20 Feb 08
Dont't you think Haywire is interesting.Having serious mental problems,he killed both his parents.It's cruel,but he was badly treated and he did have mental problem.And I have to admit his intelligence.He remembered the tatoo pattern at first sight and helped Michael fix it when it was accidentally destroyed.After he got out,his only aim was to reach Holand.When he was found by the police,his first reaction was,"larry ,run!"I hope he really reached Holand when he jump from the tower.

• Malaysia
20 Feb 08
i like "Sarjan Sodomy" the most. I like to how he always get his way and being "punished" by the others. I think without him, Prison Break will be a boring show. I don't really like Season 2 and 3 as it doesn't show much of Michael's great tattoo engineering, but I still like to watch the show, mostly due to Sarjan Sodomy.