Does anyone work from home from a legitimate company???

United States
11 responses


• India
14 Dec 06
actually i am searching for such an opportunity and i want to work also.

• Australia
14 Dec 06
A new opportunity has come up for mom or dad or whoever interested to work from home. This is a legitimate business, not scam, no sign up fee and you don't need to do anything. Just sign up and surf the net as usual. The good news is that you will get paid while you surf the net. For more information, please visit my site: http://AglocoAlive.blogspot.com Good luck!

• United States
12 Dec 06
Here are a few LEGIT and FREE work at home jobs you can do... Each company gives you a free website to use. You can sell, have home parties, or recruit more agents. Tel 3 Agent Program http://www.discountphone.2ya.com/ Cognigen Agent Program http://ld.net/bizop.cgi?page=bizop_home&cogid=17031 Cajun Country Candies http://www.cajuncountrygifts.com/go.cgi?free=6757 ID Plates http://www.iditplates.net/new/12051/index.html Web Decals http://www.webdecal.com/at.cgi/429420 Wedding Decals http://www.weddecal.com/at.cgi/429420 Procard International https://www.procardinternational.com/index2.htm?refer=NoelS3134 Stuff A Friend http://www.stuffafriend.biz/members/stars Tempting Treasures http://www.temptingtreasures.net/catalog2/index.php?ref=83 VMC Satellite http://www.vmcsatellite.com/?aid=257491 Wrap It Right http://www.wrapitright.com/store/aGo.asp?aff=481


• Canada
31 Oct 06
I work from home as well and I'd love to tell you and everyone else about it!

• United States
31 Oct 06
How many do wah jobs do you have? Wouldn't it be better to focus on one good one, and build a business instead of a job? Since you are looking for other opportunities, I would guess what you're already doing is working out. Is that a fair guess? I usually don't even suggest partnering with someone who jumps into every fast buck opportunity that comes along. I want committed, long term business partners. The first thing you must do is create a vision of where you want to be. That should be your guide as to what you do.

• United States
31 Oct 06
I work as an administrative assistant from home. I subcontract with a local not-for-profit organization who needed some admin help but couldn't afford to pay an administrative assistant to be there 40 hours a week. It works out well for both of us. Also, I sell AVON! Great opportunity, it truly does sell itself. For more information about avon please visit www.youravon.com/jkmiec

• United States
31 Oct 06
I write for Associated Content and they pay via paypal upon publication. Elance.com and Guru.com have paid my salary for the last three years - I love them.

• United States
31 Oct 06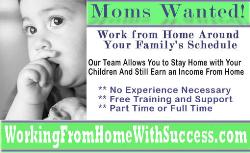 I have my own business with AmeriPlan. Check out http://www.iboplus.com/randy for more info or myLot email me. I truly enjoy it. I like saving money on my prescriptions and helping people save money on their medical needs as well. The best part is helping people get their own business going well tho.

• United States
31 Oct 06
Here are some work at home job leads http://wahjobs.blogspot.com Good luck do your research because many scams are hiding within the legit jobs.