I was 14 when i got my tattoo!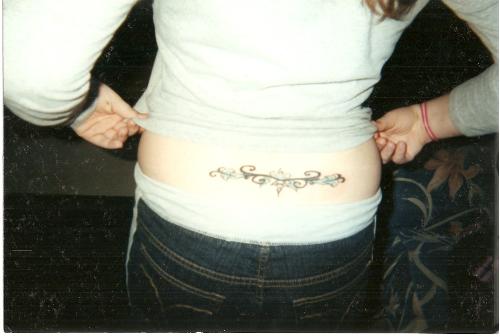 United States
February 27, 2008 1:17pm CST
I was 14 years old and i got my fisrt and only tattoo is was'nt done at a shop it was a guy that the family went to for their,tats he is petty good but i wish i would have waited! but im planningon getting stuff added to it to make tlook better anyone have any suggestions?
2 responses

• United States
23 Apr 08
Oh wow! 14 is awful young. I got my first when I was 18 and my second when I was 19. I walked around with the pictures of the tattoos I wanted for a year before I went and got them permanently drawn on me. Maybe you could get some designs around it. Some vines or flowers or whatever it is that you like. Good luck with it!

• United States
27 Feb 08
Wow, and I thought 15 was young to get your first tattoos. That's when I got my two. Hmm... Have you thought of adding a lot of flowers? That would make it look really pretty. Or maybe pick some of your favorite things, and have it turn into a little collage of types. I'm thinking of doing that to the one on my wrist, turn it into a sleeve. It looks nice as-is, if all else fails. It just needs a little more color. It looks rather dull since there's no color in it (or at least, not much). I still go with the flowers idea, though.