how do you cook your eggplant?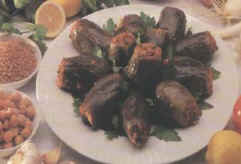 United States
February 27, 2008 3:43pm CST
every one has a favorite way of cooking eggplant .. and there's a different way of cooking it .. what's your favorit way? i like to make( eggplant mahshe ) witch mean empty the inside and stuff it with rice and meat.. and its served with tomatoe souse .. i love it so much and it teast great..thats my favorite meal of eggplant ..
4 responses

• Philippines
31 May 08
i love to make an omelet eggplant. that was my most favorite when cooking eggplants


• Pakistan
28 Feb 08
Hi dear i think i know them, are these not brinjals? but the way i like them may sound weired to u( specially the round ones). i like them to throw them in oven or bury is hot ash, when they are properly baked and black, remove their burnt skin, then mash them with tomato, some spices, some mint and things like that then eat it with chapati(clay over bread)


• United States
27 Feb 08
Personally, I like to oven roast the eggplant in olive oil and squeeze some tomato juice on it once it's soft and a little salt and serve warm. MMMMMMM!!!!! Thanks for your recipe too. :)